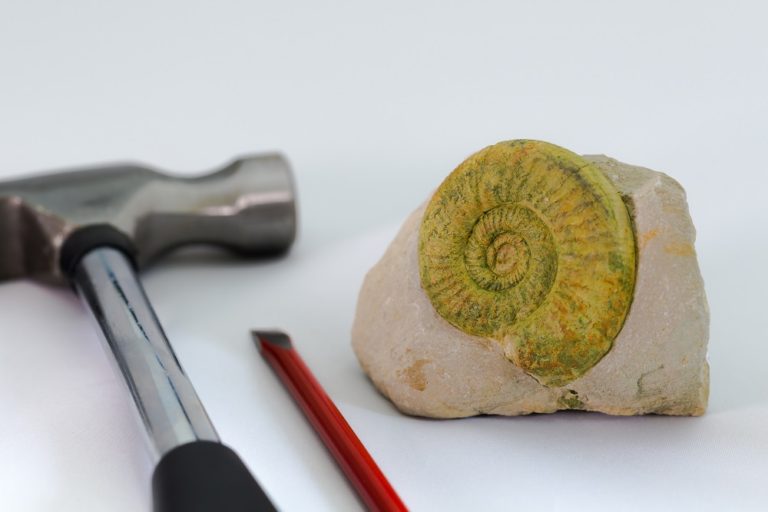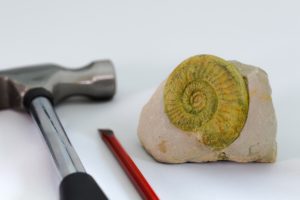 Paleobiologsts study remains of extinct species no matter the size, distribution or age, to study the evolution of all biological life.
What Does a Paleobiologist Do?
A paleobiologist examines fossilized remains of dead biological life. Where paleontologists examine the fossilized remains of animal life, paleobiologists expand that scope to include any biological system. They may use microscopes to examine ancient plant microfossils (seeds, spores and pollen), phytoliths and individual cells where they exist, and mineralized deposits of full specimens. Most work on excavations and in the field. They can work in any environment and will have the same sort of skills as archeologists in excavation. Tools of the trade include trowels, brushes, tape measures, recording equipment (pens, pencils, cameras) and patience. They also understand elements of geology, including rock and soil properties.
Increasingly, particularly for those who direct or manage excavations, they are expected to use remote sensing and surveying equipment and be able to interpret non-intrusive technology data such as ground penetrating radar. What their role is depends on a number of factors including qualifications, preference and specialism. Excavation is just one career option. Another option for qualified paleobiologists is lab work or desk based research. Testing sample to date them (using either absolute or relative dating methods) is one potential task. Others may produce and analyze distribution diagrams to understand the data in its wider context.
The third career option is academia. Those with the relevant background and experience may choose to work in university departments to encourage the next generation of paleobiologists and paleontologists. They will apply for research grants and conduct research and excavation for universities while being under obligation to teach for using facilities.
Where Does a Paleobiologist Work?
Their flexible skills and usefulness means that the work environment of the paleobiologist is not limited purely to university departments. Many work as consultants or in excavation teams in oil and gas extraction. Their knowledge of geology and geological deposits is invaluable. Our fossil fuels are broken down organic material, so their background in paleobiology is vital for prospecting for new pockets of gas, coal and oil. Some 22% are employed in this area. Similarly, 17% will work in engineering services fulfilling much the same roles ahead of commercial, industrial or residential development but independently of government and private business. They may compile geological maps and GIS files for construction organizations.
Around 15%, that is 1 in every 7, will work for independent technical consulting services. These private firms may be contracted by developers or government, but their knowledge base may provide the basis for academic reporting
One in eight works in state government, for example in museums or other education establishments (but not public schools or universities). History clubs, state parks and other similar non-Federal government activities will come under this. The academic community employs around 7% of graduates with these qualifications.
<!- mfunc search_btn -> <!- /mfunc search_btn ->
What Is the Average Paleobiologist Salary?
According to the BLS, paleobiologists, who fall under the broader BLS category of geoscientists, earned a median salary of $93,580 as of May 2020. The lowest 10% earned less than $51,890 and the highest 10% of earners had a salary and bonuses of more than $201,150. The highest paying sector was oil and gas extraction with a median salary of $125,670.*
Paleobiology Jobs & Job Description
Recent Paleobiology Job Listings
Use the search box below to find all the paleobiologist job listings in our job board.
A Paleobiologist's main job is to study how biological life has evolved over time. Working in the role requires a highly specialized set of skills and tasks could vary significantly based on place of employment. Working at a museum, a consulting firm or in the oil field are all opportunities that the role affords. The skills and tasks include but are not limited to:
A university degree in geology, earth sciences, paleobiology, paleontology or related field of study
Knowledge of how to conduct field studies in varying and occasionally extreme environmental and weather conditions
Ability to generate and measure stratigraphic section samples of the earth using heavy machinery
Ability to observe and characterize sedimentary rocks and establish the relationship between biological life and rock types or formations
Possess knowledge of applicable laws, codes and regulations, such as those regarding field research or specimen collections for museums
Capacity to document, store, preserve and organize the collections of field research
Willingness to analyze specimens and sections of the earth using microscopes in a laboratory
Organizational ability for fossils and biological specimens to allow for future researchers or curators to locate specimens
Conduct research and analyses from organized collections of specimens, samples and observations
The work of a senior level Paleobiologist will vary depending on the place of employment, such as working in a museum, an educational institute or as an executive consultant. The skills and tasks required for a senior level position can include some of the skills listed in the junior or entry level Paleobiologist position and may also include:
A Ph.D. in geology, earth sciences, paleobiology, paleontology or related field of study
Managing collections of paleobiological research in museums
Managing research volunteers, staff and students during research projects
Administering training to staff and volunteers as well as developing training programs applicable to projects
Cataloguing and overseeing access to specimens and use of specimens from storage locations
Excellent communication and knowledge to instruct and teach individuals about paleobiology and various specimens collected
Capacity to develop educational programs and courses for a variety of audiences and students
Capacity to design all aspects of research projects, including but not limited to project budgets, field locations, staffing, equipment required and research methods used
Ready to provide expert support and consultation for oil drilling proposals and construction projects
Ready to provide advising to students at an academic level when teaching components of paleobiology at a university or college
What Is the Job Demand for Paleobiologists?
Paleobiology is a niche area so no specific data exists on job demand. However, their broad skills, being similar to most other geoscientists, means that they are broadly categorized with geologists, paleontologists, environmental engineers, geographers and so on. Job demand for this area is expected to grow by 7% between 2020 and 2030.* As existing fossil fuel pockets dry up, it's important to streamline production in finding remaining extant pockets and to use technologies and techniques to improve extraction. With their geological knowledge, paleobiologists can expect that the majority demand will come from this area.
What Are the Education Requirements to Become a Paleobiologist?
High School students should focus on the sciences in order to be accepted onto a relevant degree program of study. Typically, biology, chemistry and geography will put students in good standing for studying a degree. Similarly at college, students should choose a major that focuses on this area - covering as much of the background study as possible. Geography or biology are great degree choices, as is geology. Minors should complement whichever course the student opts. Bachelor's degrees are enough for excavation jobs with the relevant background. However, these jobs are often low paid and very competitive.
Master's degrees will be essential for most roles that are not excavation based. The deeper understanding, the use of technology and project work will be vital for your ongoing career. A bachelor's degree is simply not enough for this type of advanced or responsible role. Students who wish to develop in their career into desk based research, lab work and reporting will need a master's degree. Doctorates will be essential for academic research, teaching and high-level government or business roles - particularly those that involved decision-making or high-level advisory. No Master's Degrees exist for this study area, so students should continue to tailor their roles through geology departments or through biology.
Paleobiology - Related Degrees
<!- mfunc search_box_body ->
<!- /mfunc search_box_body ->
What Kind Of Societies and Professional Organizations Do Paleobiologists Have?
The following organizations are for paleobiology professionals.
Paleobiology Database: Less of an organization and more of a knowledge-sharing base, this small sub-discipline is still a growing area. International cooperation is needed to study the history of evolution of life on this planet. It's non-governmental and interdisciplinary.
The Paleontological Society: Covering paleontology, paleobotany and paleobiology, this is the world's largest and most prestigious membership organization for academics, researchers and knowledge sharing. They produce publications and offer short courses
*2020 US Bureau of Labor Statistics salary figures and job growth projections for geoscientists reflect national data not school-specific information. Conditions in your area may vary. Data accessed September 2021.
<!- mfunc search_btn -> <!- /mfunc search_btn ->