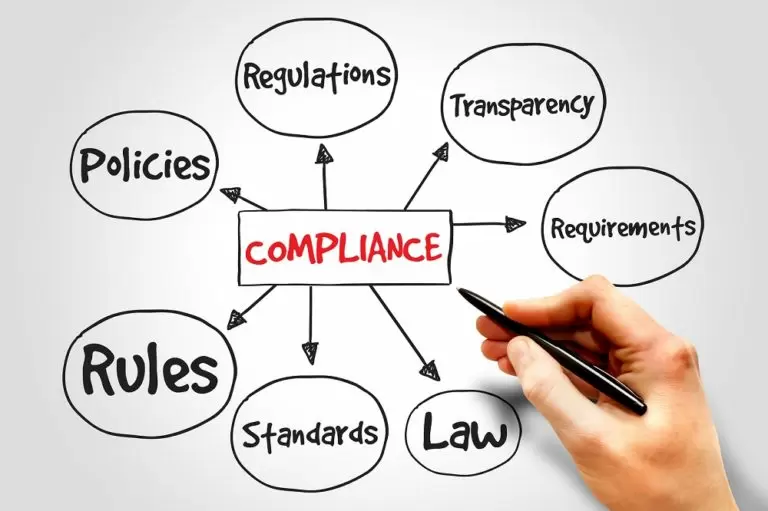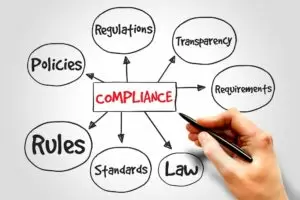 A Regulatory Compliance Manager is a type of business manager responsible for implementation of systems that adhere to state or Federal legislation.
What Does a Regulatory Compliance Manager Do?
As an organization operates and conducts itself, it must continue to adapt to an environmental legislative world that is always changing. What is legal one day may not be legal the next day; processes and procedures change in light of new information. This is why they require managers and executives whose role it is to ensure that the organization continue to fulfil its duties. In the environmental sector, this means the use of materials and processing them. It also means provisions for environmental health and safety compliance. There are also internal regulations that are not legally binding, but effectively industry agreement. Monitoring this area of compliance is also within the remit of the Regulatory Compliance Manager.
They may work in offices compiling reports that they will deliver to senior managers and other decision makers. They may also be tasked with carrying out routine premises inspections - factories, offices, shopping malls or anywhere else they may work, to ensure that compliance. Regulatory Compliance Managers work on their own or as part of a team with others and consult environmental law professionals within their business or industry to devise proposals and plans.
Where Does a Regulatory Compliance Manager Work?
BLS statistics estimate that there are around 250,000 individuals working as Compliance Managers across the board in the US at present. By far the largest employer by numbers is Federal government with around 21% of employees. These work in public buildings and on public land to ensure that government bodies, employees and civil service comply with Federal and international regulation on a variety of things. They work outside and inside, usually for independent or government bodies. Similarly, around 14% work for state governments and 10% work for local governments.
Private enterprise employs some 15,000 individuals, or around 6%. Private businesses are required to comply with legislation set down at local, state, national and international level, depending on their size and whether they operate internationally. It is vital that they keep on top of this legislation or find themselves subject to sanctions and fines. This is their way of ensuring they remain on the right side of the law.
Around 8,000 or some 3-4% work in the insurance industry, assessing compliance for the purpose of assessing claims, underwriting and recommending changes for calculating insurance premium costs. They are a vital link for insurers and will often set regulations - though not legally binding - are part of terms and conditions of an agreement.
<!- mfunc search_btn -> <!- /mfunc search_btn ->
What Is the Average Regulatory Compliance Manager Salary?
According to 2020 statistics, the median salary for regulatory compliance managers, who fall under the broader BLS category of environmental scientist and specialists, was $73,230.*
Regulatory Compliance Manager Jobs & Job Description
Recent Regulatory Compliance Job Listings
Use the search box below to find all the regulatory compliance manager job listings in our job board.
A Regulatory Compliance Manager can work in many different lines of work, such as healthcare, food industry, environmental or manufacturing. The first-tier position requires a specialized skill set to perform this type of career and can include:
A Bachelor's Degree in a field of study related to the work industry or several years of experience in the field of work
Ability to travel to multiple work sites or perform work at one fixed location
Possess strong verbal, written and technical communication skills
Capacity to be highly organized and manage several tasks at one point in time
Acquire excellent critical thinking skills
Work independently on projects or within a larger team environment
Analyze situations or compliance issues and provide solutions to issues/problems that are identified
Ensure compliance is achieved to all local, state and federal policies, regulations and laws pertaining to work projects
Ability to provide expert advice and resources to company management, stakeholders and employees
Investigate, document, analyze and provide resolution for any regulatory compliance concerns that arise
A senior level position or area manager as a Regulatory Compliance Manager requires superior knowledge and management experience in the field. The skills required for a first-tier position are also required in the senior role, as well as these additional skills:
Possess a Bachelor's Degree or Master's Degree in related field of work
Acquire extensive experience in the relative work industry
Ability to travel to many work locations and maintain organization throughout
Possess strong project management skills
Oversee single or multiple-company landscape(s) to ensure that regulatory compliance is sustained on all levels
Provide, direct or facilitate training and education programs to employees to create overall compliance
Actively communicate any policy changes to employees to maintain overall compliance
Administer research results and make recommendations on a management level
Capacity to identify issues and ability to present solutions
Support and oversee the preparation of documentation submissions to ensure regulatory compliance
What Is the Job Demand for Regulatory Compliance Managers?
Job demand for this type of role is expected to grow an average of 8% in the years between 2020 and 2030.*
What Are the Education Requirements to Become a Regulatory Compliance Manager?
A bachelor's degree is vital for this type of role. High school students should focus on math and English language. The former is important as there may be some mathematical analyses and calculations including statistics during the day-to-day role. The latter is important, as communication with stakeholders will be a vital part of this role regardless of where they work or the level of responsibility.
Your degree of choice depends on where you choose to work. Assuming you want to enter a role of environmental compliance, then a related environmental policy or law degree will be beneficial. Ideally, you could take a law degree and back it up with minors and electives in environment. This should put you in good standing. Similarly, finance degrees are suitable for finance based compliance roles and so on.
A master's degree is not vital, but with the expected reduction in the number of jobs between now and 2024, it may be advantageous to study a postgraduate degree. The greater project work will be helpful too. Once graduated, you will need to check your accreditation / certification requirements. Some industries and some states require that you obtain a license to work in that industry.
Regulatory Compliance - Related Degrees
<!- mfunc search_box_body ->
<!- /mfunc search_box_body ->
What Kind Of Societies and Professional Organizations Do Regulatory Compliance Managers Have?
Most bodies regulate only one particular industry due to the amount of legislation.
*2020 US Bureau of Labor Statistics salary figures and job growth projections for environmental scientists and specialists reflect national data not school-specific information. Conditions in your area may vary. Data accessed September 2021.
<!- mfunc search_btn -> <!- /mfunc search_btn ->