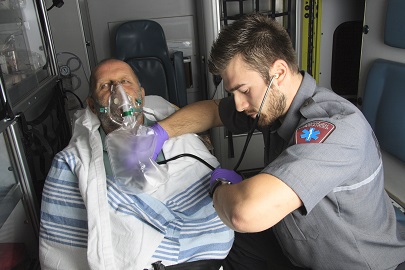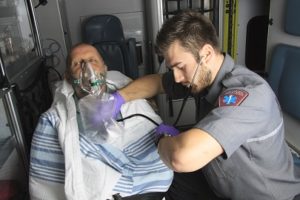 An Emergency Medical Technician or Paramedic works in healthcare, typically driving an ambulance to a place where they are needed and treating people at these sites of emergencies and accidents. There are slight differences between an EMT and a Paramedic.
What Does an Emergency Medical Technician / Paramedic Do?
EMTs and Paramedics primarily drive ambulances as part of a crew. However, they are not just ambulance drivers. They will have expert medical knowledge - treatment and use of equipment - that they deliver at sites of road traffic accidents, building collapse, fires and so on. They will be medical first responders anywhere emergency medical treatment is required. Where environmental factors are concerned, they will work at sites of oil spills, chemical leaks, toxic waste accidents and treatment of patients exposed to these substances. Some will have expert knowledge, for example in the treatment of chemical burns.
They work with Emergency & Disaster Response Tech at the scene and indirectly with disaster planners at sites where accidents have occurred. Emergency Medical Technicians are a vital part of the healthcare system of any country that has one.
What is the Difference Between an Emergency Medical Technician and a Paramedic?
In most developed countries, the two terms are interchangeable. Some countries do not use the term "EMT" at all. Here in the US, there is a slight difference worth noting. How you train and what you study could make all the difference depending on what your intended career path will be. The difference has legal implications so it is very important to note.
EMT: They will typically receive between 1,200 and 1,800 hours of training before they are permitted to practice. Afterwards, they will be qualified to give emergency medical treatment and care including CPR, administering oxygen and glucose, help with asthma attacks and treatment for allergies.
Paramedic: These medical professionals can do all of the above but they will have greater involvement in administering medication. They are permitted to hook a patient up to an IV drip, more advanced treatment of airways and giving injections.
Simply, the major difference is that Paramedics are permitted to administer treatment that would break a person's skin; an EMT is not. The other difference is that paramedics have a longer list of medications they are permitted to prescribe.
Where Does an Emergency Medical Technician / Paramedic Work?
They overwhelmingly work in the medical sector. Where they work is broken down into roughly three areas. Most will work for the ambulance service as they are "on the road" medical providers. The second biggest employer is local government. This excludes local education and government-run hospital facilities. The third biggest employers are hospitals with around 1/6 of the qualified population of EMTs and Paramedics. This includes state, local hospitals and those privately run. Although contracted to work a typical 40-hour week, most will do more hours than this due to the on-call nature of the job.
Outside of the medical industry, they may work for fire departments so that they can attend the scene of an accident along with the relevant fire department. Others may also find work with the military for a similar purpose, working as military medics. Typically, these people will start off in the military and receive medical training or join the military specifically to join as medics. Their education path will be different from conventional medical training.
<!- mfunc search_btn -> <!- /mfunc search_btn ->
What Is the Average Emergency Medical Technician / Paramedic Salary?
As of May 2020, the median salary for EMTs and paramedics was $36,650. Despite the larger responsibilities and greater medical training, there seems to be very little variation in the salaries between the two groups. The range of salary was $24,650 for the lowest 10% of earners and $62,150 for the highest 10% of earners. Salary variation between places of work varies a little. EMTs and Paramedics that work at hospitals earned a median annual salary of $38,640. Local government work was only slightly lower at $38,580. Ambulance services were the lowest payers at an average $34,250.*
EMT / Paramedic Jobs & Job Description
Recent EMT / Paramedic Job Listings
Use the search box below to find all the emergency medical technician and paramedic job listings in our job board.
Emergency medical techs are also called paramedics or EMTs and have a high degree of specialized training to be able to assist people in distress. Every emergency call to which they are dispatched is quite different, but these professionals draw from a similar skill set:
Maximize on-call time by prioritizing administrative and on-scene tasks
Treat all stakeholders with respect and compassion.
Adhere to all protocols, policies and procedures
Commit to continuous professional development to deepen understanding and practice of pre-hospital medicine
Maintain and calibrate equipment, vehicles and machinery
Document and report maintenance and process issues for consideration
Document records with accuracy and efficiency
Adhere to strict confidentiality and ethical practice
Create a safe work environment for colleagues and patients
Emphasize Occupational Safety and Health Programs
Participate in all emergency response and training exercises
Provide initial medical assessment and treatment
Provide routine and emergency medical care
Transport ill and injured persons
Assess patients and evaluates the cause and severity of illness or injury
Administer appropriate treatment
Combine independent judgment, medical protocol and best practice
Senior emergency medical techs and paramedics are often drawn to the role due to the breadth of their experience and their aptitude for logistics. Every organization is different, however each has some job traits in common at the manager level:
Model an exemplary employment history
Orient new EMTs to clinical and operational policies and procedures
Act as preceptor to paramedic students and interns
Complete all paperwork in an accurate, concise and timely fashion
Assist systems and quality assurance teams with metrics
Create and approve training materials and processes
Attend Field Training Officer training as required.
Perform employee evaluations
Maintain active field trainer status.
Attend evaluator meetings and in-services
Document, observe, and evaluate employees and processes as per policy
Train, provide orientation and remedial assistance to employees as needed
What Is the Job Demand for Emergency Medical Technician / Paramedic?
As of May 2020, there were about 261,000 EMT and paramedic jobs in the U.S. Job demand between 2020 and 2030 is expected to grow by 11 percent - much faster than average and much higher than the sum total of all occupations. With more cars on the roads, we expect accident rate to grow in line with projections.* The population is aging which means greater medical care for an aging population. There will always be demand for EMTs and Paramedics to attend the sites of natural disasters.
What Are the Education Requirements to Become an Emergency Medical Technician / Paramedic?
Which career path you choose will depend on which course of education you will complete.
For an EMT, a good High School Diploma is required plus several years of medical training in which the candidate should qualify with a Cardiopulmonary Resuscitation Certificate. Once these are achieved, the candidate will follow a non-degree qualification in secondary education. Most technical colleges, community colleges and medical training colleges should offer a relevant and suitable course of study.
If you desire to study to become a paramedic, you will need a degree - an Associate's Degree at the very least. The greater level of responsibility and intensity of medical training will require a more intense course of study.
Following completion of the studies, both EMTs and Paramedics will require official certification from NREMT.
EMT - Paramedic - Related Degrees
<!- mfunc search_box_body ->
<!- /mfunc search_box_body ->
What Kind Of Societies and Professional Organizations Do Emergency Medical Technician / Paramedics Have?
The following professional organizations are for EMTs and Paramedic professionals:
IAEP: The International Association of EMTs and Paramedics is a global organization open to all professionals be they EMT or Paramedic. They presently represent some 10,000 professionals worldwide providing information and resources for members
NAEMT: The National Association of EMTs is the largest organization of its kind in the USA offers advice on workplace practice, safety at work, EMS advocacy in protecting EMTs and Paramedics on the job
NREMT: The National Registry of Emergency Medical Technicians. This is the body in charge of certification and regulation of all EMTs and Paramedics within the United States
*2020 US Bureau of Labor Statistics salary figures and job growth projections for EMTs and paramedics reflect national data not school-specific information. Conditions in your area may vary. Data accessed September 2021.
<!- mfunc search_btn -> <!- /mfunc search_btn ->