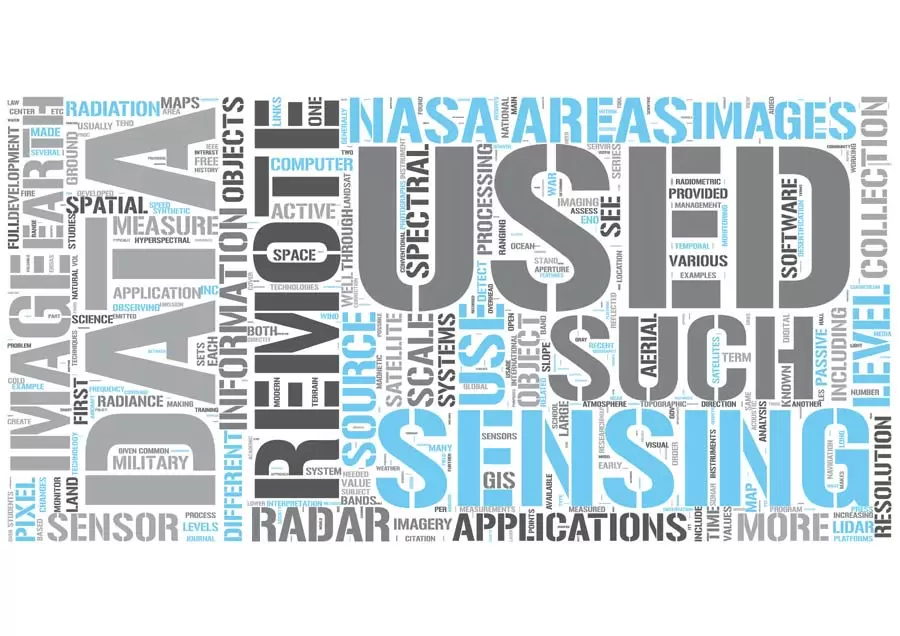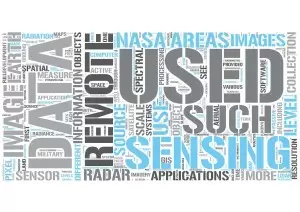 Remote sensing involves collecting information about places or objects on the earth's surface from a distance. Specialists in this area may use air or satellite imagery, which are based on visible light. Or, they may use "false images" showing how microwave, infrared or thermal energy is reflected by the earth. The colors in these "false images" indicate different absorption and reflection patterns, revealing information on the shape, size, elevation, or composition of an object or area on the ground.
LiDAR is somewhat similar to sonar, but works with lasers. LiDAR involves shooting lasers toward the ground and measuring how much of the beam is reflected back. This highly sensitive technique is used to determine elevation, even creating detailed, pointillistic "reconstructions" of forests based on the elevations and positions of branches, leaves, and tree trunks. Similarly, imaging radar systems create images of objects by analyzing the portion of radar signals returned. Ground-penetrating radar is used by archaeologists to investigate, map and assess archaeological sites.
Hyperspectral remote sensing collects information across many narrow electromagnetic bands simultaneously for every pixel in an "image". Since it's very high resolution, efficient, and effective at detection, this is a burgeoning and promising area of research and development.
Remote sensors are often integrated with satellites. The National Aeronautics and Space Administration (NASA) studies the earth, as well as space, for this reason. NASA's Earth Observing System (EOS) recently launched a new suite of satellite-based sensors. NASA uses the data collected from its satellite to monitor, analyze, and understand natural hazards and human impact on the earth's surface. The data collected contributes to the study of climate change, air pollution, and other environmental challenges. You can even get free satellite-based imagery and maps from NASA's Earth Observatory.
What Does a Remote Sensing Specialist Do?
Remote sensing specialists support scientists by designing and conducting remote sensing data gathering efforts. For example, they determine the best techniques, equipment, spectral band, and time of day for a particular mission. They may prepare flight plans, configure sensors, apply the techniques to collect data in the field, and process the resulting data.
This data is used in a wide variety of fields, including all of the environmental sciences, agriculture, archaeology, urban planning, water management, meteorology, and even engineering and business.
However, before it can be used, remote sensing specialists must verify the integrity and accuracy of data and correct any errors due to atmospheric variation or other interference. They may also build photo mosaics of large areas, participate in the planning or development of mapping projects, and integrate remotely sensed data with other geospatial data to create maps. Many use computer programming languages like Python to automate data processing tasks. They may also create metadata that documents the datasets so that others will understand their context and characteristics.
Where Does a Remote Sensing Specialist Work?
Remote sensing is growing by leaps and bounds, and careers in the field are available in all states and throughout the private, public, government, and academic sectors. Remote sensing specialists may be hired as geographers, cartographers, physical scientists, computer scientists, GIS analysts, remote sensing scientists, surveyors, photogrammetrists (who create maps from air and satellite photos), image analysts, or other professionals.
Federal and state planning, environmental, land management, and transportation agencies offer many job opportunities in this area. Many are employed as geospatial analysts at federal defense agencies such as the Central Intelligence Agency and Department of Defense.
Remote sensing is increasingly used by private companies that sell imagery and data to Google, Bing, the federal government, scientists, academic and research libraries, and others. Specialists may also find employment at consulting firms, software development firms, and scientific laboratories, where they are expected to improve technologies, software, or data analysis techniques.
Some specialists become professors or research staff in academia. These positions require at least a master's degree, while tenured faculty have doctoral degrees.
Most specialists in this highly computerized field spend much if not all of their time in office environments. However, collecting or verifying data in the field may be required on occasion.
<!- mfunc search_btn -> <!- /mfunc search_btn ->
What Is the Average Remote Sensing Specialist Salary?
As of 2020, there were 54,800 employees in this field. The median salary for these professionals was $46,200 during this time.*
Remote Sensing Specialist Jobs
Recent Remote Sensing Specialist Job Listings
Use the search box below to find all the remote sensing specialist job listings in our job board.
Remote sensing specialist careers improve, enhance, and update the data that many companies and governments use to research or to improve user quality of life. While the role does vary significantly, may remote sensing specialists will be comfortable performing the following sets of tasks:
Read and respond to scientific and technical literature in order to stay current in the field
Prepare images, graphic reports, maps, and charts for internal and external stakeholders
Build large-scale photos of areas like cities and parks
Operate remote sensing equipment to gather airborne, ground-based, and satellite data
Ensure that data obtained from remote sensing systems meets quality assurance guidelines
Be aware of regulatory and privacy concerns in varying locations
Assist with the data collection and management of natural disasters such as floods, fires, earthquakes, oil spills, and hurricanes
Use computer modelling to gather data and test hypotheses
Ensure that customers get the best possible experience using location products
Use feedback derived from the everyday product usage to drive innovation
Senior remote sensing specialists often have the experience necessary to take on extended responsibilities for management purposes. Such responsibilities often include:
Foster a positive and safe work environment amongst colleagues and teams
Develop and inform project scopes, schedules, and budgets
Navigate federal and international protocols, regulations, and best practices
Overseeing equipment and instrument calibration
Creating proposals for funding and business purposes
Foster a positive and safe work environment
Develop and inform project scopes, schedules, and budgets
Navigate federal and international protocols, regulations, and best practices
Test and calibrate equipment and instruments
Create grant proposals for funding purposes
Ensure quality assurance, organization, and appropriate tracking of field data
Oversee lab integrity and quality assurance protocols
Engage in office-based tasks including technical report preparation and submittal, as well as liaising with site stakeholders
Supervise fieldwork (survey, site recording, testing, monitoring, and data integrity) of multiple field crews
Communicate with stakeholders through field status reports and presentation of team findings
What Is the Job Demand for Remote Sensing Specialists?
The U.S. Bureau of Labor Statistics (BLS) projects employment in the field to grow at a rate of 4% between 2020 and 2030. New developments, such as high-resolution sensors and sensors that can be turned and directed from the ground, will boost commercial applications and the jobs that go along with them.*
What Do Remote Sensing Specialists Study?
While most remote sensing specialists have a bachelor's degree, those who prefer not to pursue a 4-year degree can find entry-level employment after completing an associate's degree or certificate program in photogrammetry, surveying, or GIS.
Remote sensing classes are typically offered by geography programs. Those drawn to this field may decide to major in geography. However, since remote sensing tools are used to support a wide variety of disciplines, classes may also be offered as part of engineering, forestry, geology, or environmental science programs. Many schools now offer minors, certificates, and master's programs in remote sensing and other geospatial technologies. However, within the earth and environmental sciences, these offerings generally enhance the skills and credibility of scientists, rather than standing on their own. For this reason, those interested in applying remote sensing techniques to environmental issues would be wise to develop a broad background in environmental science, forestry, geology, etc., as well as math and computer programming.
While demand is high, employers seek out those who have practical experience in addition to education. It's important to seek out opportunities to gain experience as early as possible. This may mean participating in an internship, or volunteering for nonprofit organizations to build up a portfolio. A solid portfolio, experience, and knowledge of computer programming are key to being competitive the job market.

Other Degrees Related to Remote Sensing
<!- mfunc search_box_body ->
<!- /mfunc search_box_body ->
What Kind of Societies and Professional Organizations Do Remote Sensing Specialists Have?
The American Society for Photogrammetry and Remote Sensing (ASPRS) is a professional association for the geospatial industry. It offers several types of professional certifications. While optional, these certifications enhance professional credentials and set job seekers apart in a competitive market. It holds annual and specialty conferences, supports divisions, and offers networking opportunities through national job fairs, workshops, and social activities.
The National States Geographic Information Council (NSGIC) is largely comprised of management-level geospatial specialists, many of whom coordinate state activities. However, any geospatial specialist is welcome to join. NSGIC is an excellent way to hear about the new initiatives of other members, and to learn from peer-to-peer mentoring.
The University Consortium for Geographic Information Science (UCGIS) is an association of over 60 universities that advances research and education in geospatial technologies. It facilitates networking through conferences and provides timely information on grants and contracts in the field to employees of member institutions. Its workshops are open to non-members for a fee.
*2020 US Bureau of Labor Statistics salary figures and job growth projections for surveying and mapping technicians reflect national data not school-specific information. Conditions in your area may vary. Data accessed September 2021.
<!- mfunc search_btn -> <!- /mfunc search_btn ->