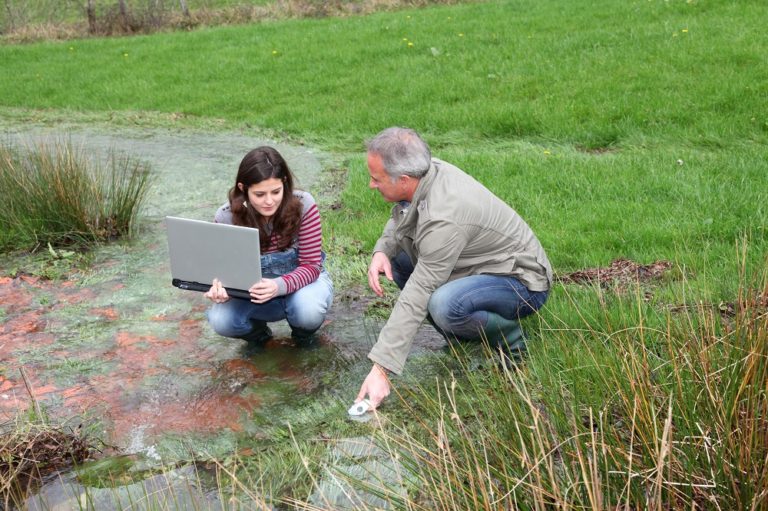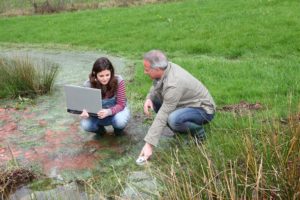 Environmental Monitors take environmental samples of the elements around us to examine its composition.
What Does an Environmental Monitor Do?
Environmental Monitoring is a vital role in determining health and safety issues for the purpose of public health or environmental health. Their main job is sampling - soil, atmospheric and water but they will also take air samples inside buildings to ensure workplace regulations are met. People who work in Environmental Monitoring can be looking for many things. The most obvious is pollutants or radioactivity, especially when looking to build a case of negligence against an individual or business, or for evidence of the effects of climate change.
This will not be the only role in which they may be involved. Experts in chemistry will look for specific chemicals or chemical changes - and these can be natural as often as they are artificial. From a biological perspective, they may look for microorganisms and bacteria (e. coli, listeria) to determine the source of an outbreak of illness in a human or animal population, or environmental damage. They may also be looking for population monitoring, examining the instances - rise or decline - of species in an area.
They may also look for potential source of groundwater to determine the best placing of public works and examine botanical evidence for changes to the plant ecology over a given period. This is not so different from palaeoenvironmental specialists. Regardless of their background or the reasons for why they are sampling, their job is one of fieldwork and sampling and they could work almost anywhere. They may also be involved in producing reports for decision makers in government, charitable sector or private industry.
Where Does an Environmental Monitor Work?
There are around 36,000 professionals working in environmental monitoring in the US. The majority employer is private scientific and technical services (just over one quarter). Businesses and government agencies may employ or hire privately run technical services to monitor and work on specific issues. For example, the construction industry may need a full environmental report before beginning work on a site. They want to ensure that there is no prevalent endangered species on site, its air and water pollution levels, and whether there are other potential problems.
The second biggest employer is local government - around one fifth. These will work for parks and in environmental monitoring amongst other roles. Ensuring state compliance with rules on environment is an ongoing issue for people in this role and they may be involved in potential prosecutions. Similarly, around one in ten works for state government. Finally, around one in eight will work in labs - either at universities or at private laboratories in monitoring services for the purpose of research, product development and general monitoring. Many of these professionals will work in climate science.
<!- mfunc search_btn -> <!- /mfunc search_btn ->
What Is the Average Environmental Monitor Salary?
Environmental monitors, who fall under the broader BLS category of environmental science and protection technicians, earned a median salary of $46,850 as of May 2020. Local governmental agencies pay the most, with environmental monitors earning a median salary of $51,510 in this setting.*
Environmental Monitoring Jobs & Job Description
Recent Environmental Monitoring Job Listings
Use the search box below to find all the environmental montior job listings in our job board.
Environmental Monitors study and record observations from one or several environmental site locations. The data and observations collected are both valuable and compulsory for many environmental projects to provide information to regulatory agencies. While jobs vary, an Environmental Monitor can be expected to perform the following:
Monitor and collect samples at specific environmental sites for particular variables, such as temperature, soil, water and air testing, plants and wildlife
Analyze, prepare, record, and accurately label samples and observations from environmental locations
Monitor one particular location or several locations requiring extensive travel over time; areas of work may be remote
Majority of work performed outside of an office and may use mobile laboratories
Excellent data management and communication skills to provide top notch oral presentations and reports of monitoring data
Use specialized laboratory equipment, computer software, databases and tracking systems to monitor environmental sites
Current knowledge of all environmental regulations, laws and policies
Ability to work independently and with minimal supervision
Calibrate, maintain and organize all monitoring equipment
Information collected can be utilized for environmental compliance assessments
Report information to a coordinator or manager
A senior level Environmental Monitor incorporates the responsibilities of a level one position, while taking on larger scale projects and may have others reporting to them. A senior level position requires:
Specialization in a particular area of environmental monitoring, such as emission assessment or air quality testing
Produce environmental monitoring data results and provide management with plans in regards to the effects of environmental projects, such as mining, drilling, landfills and construction projects
Create and provide weekly, monthly or annual reports of observations; present these reports to relevant governments, companies and other businesses
Possess excellent computer skills to analyse and record environmental data systems
Ensure that environmental regulations are being met through environmental monitoring and data collection
Many jobs require remote work experience and knowledge of working in a remote location, including remote culture and communications management
Awareness of possible exposure to extreme work environments, which can include cold, fumes, chemicals, heat, weather, and airborne particles
Supervise testing and monitoring equipment; ensure the calibration of equipment is performed regularly
Gather information from members of a multi-disciplinary team
Draft and deploy reports as needed to senior executives, project steering committees or regulatory agencies
What Is the Job Demand for Environmental Monitors?
Demand for environmental monitors is expected to grow by 11% between 2020 and 2030.* There is greater public, government and scientific interest in environmental monitoring as it pertains to public health, ecological health and health and safety at work. Greater reliance on environmental sampling in climate science will also contribute to increased demand. It is likely that specialization will be required as we go on, creating greater diversity of options and requirements. Those with lab experience will experience the most demand.
What Are the Education Requirements to Become an Environmental Monitor?
At the very minimum, a bachelor's degree will be required for most roles. Candidates with degrees in biology, chemistry, environmental science and other life sciences will find themselves in good stead. A bachelor's degree will be suitable for those who wish to engage with fieldwork and sampling but for anything more engaging, jobs can be competitive and a post-graduate qualification will be expected. For analysis roles, a strong math background - especially statistics - will be advantageous.
Unless a candidate has extensive lab work experience (such as serving as a research assistant or served an internship in a lab), a master's degree will be vital. This type of postgraduate degree permits learning to a high level, a greater responsibility in professional skills and analysis and first hand project experience.
If a candidate wishes to run their own project and be involved in primary research and report production, a doctorate is a must have. This will also be required for those seeking influential positions such as decision and policymaking.
Environmental Monitoring - Related Degrees
<!- mfunc search_box_body ->
<!- /mfunc search_box_body ->
What Kind Of Societies and Professional Organizations Do Environmental Monitors Have?
The following are dedicated to environmentalists in general or are for monitoring professionals:
NEHA: National Environmental Health Association is concerned with all manner of environmental health, not just monitoring, but the data does play a key part in food safety and water quality
SETAC: The Society of Environmental Toxicology and Chemistry brings together monitoring professionals around the world who work in toxicology and environmental monitoring. Their annual conference is a must-attend event for monitors
*2020 US Bureau of Labor Statistics salary figures and job growth projections for environmental science and protection technicians reflect national data not school-specific information. Conditions in your area may vary. Data accessed September 2021.
<!- mfunc search_btn -> <!- /mfunc search_btn ->