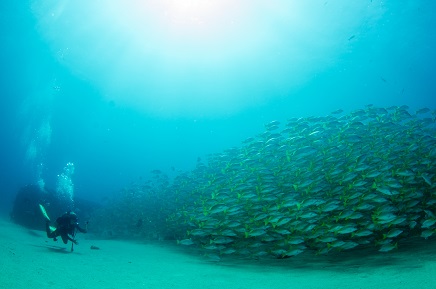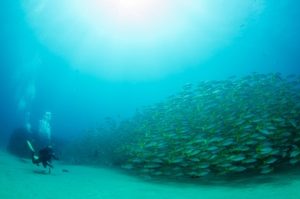 Biological Oceanographer study the makeup of our oceans. Like Marine Biologists, they will look at the life forms and ecosystem, but they will also look at how external factors impact on life forms in the ocean bodies.
What Does a Biological Oceanographer Do?
Biological Oceanographers study life in the world's oceans. They will look at life distribution, how abundant (or otherwise) certain species are, the production of marine species, predation, the impact of fishing and invasive species. This is the remit, largely, of Marine Biology, but Biological Oceanography will look at other and external factors that impact life in the oceans. They will understand the processes that lead to the unique ecology of life around thermal vents, for example. They will understand and examine the impact that subaquatic earthquakes will have on an ocean's makeup and ecology. A sudden shift in the chemical element of the ocean can have profound effects on the lifeforms that rely on it. Their primary concern is relationships in the ocean.
Another aspect where a Biological Oceanographer will have more expertise than a Marine Biologist is in the meteorology of the oceans. Trade winds, El Nino and storms are all external factors that might impact an ocean's ecology and the biological life. Chemical, physical and behavioral factors influence life distribution patterns, as do biochemical adaptations such as food sources, temperature fluctuation (with single events or annually impacted), atmospheric pressure and light levels, and finally geology.
Where Does a Biological Oceanographer Work?
As their occupation is closely aligned with Marine Biology, they will often work in much the same places: local, national and international government organizations in conservation or monitoring roles. Here in the US, many will work for Federal organizations such as the NOAA or the EPA. As the major employer type, government jobs provide greater security, a higher salary and better opportunities for advancement.
Elsewhere, they may work as field researchers or lecturers for university departments. This is a more academic role, but they will most likely spend more time outside than in the library or lecture theatre. However, they fulfil an important role in the marine sciences; there will nearly always be roles in this area, particularly at university departments with a history of ocean sciences.
In the private sector, they may work in advisory capacities for underwater developments and civic works or advise on pollution and work in climate policy. However, they are likely, in these cases, to make up a team of advisors and policy makers from all disciplines.
<!- mfunc search_btn -> <!- /mfunc search_btn ->
What Is the Average Biological Oceanographer Salary?
Biological oceanographers, who are categorized by the BLS as geoscientists, earned a median salary of $93,580 as of May 2020.*
Biological Oceanography Jobs & Job Description
Recent Biological Oceanography Job Listings
Use the search box below to find all the biological oceanographer job listings in our job board.
Biological oceanographers use their research skills to study the impact of the environment on groups of oceanic organisms and vice versa. Jobs do vary depending on company or project scope, but most biological oceanographers will be familiar with the following set of duties:
Perform data collection, analysis, and reporting of ocean environmental processes
Consider the ecological, biological, chemical, physical, and geological impact of marine life, and vice versa
Assist team scientists and engineers with project-related tasks
Read current literature and research in the field
Perform project management activities
Prepare concise and high-quality data figures and summaries
Prepare technical reports as part of deliverables for completed work
Participate in new proposal efforts to gain support and funding for upcoming projects
Use a scientific approach to understanding and interpreting oceanic processes
Collect, process, evaluate and report on sediment and substrate samples
Assist with hydrographic and geophysical surveys, data collection and processing as they impact oceanic biology
Create coastal, estuarine, oceanographic, and meteorological observation protocols for survey data
Prepare and mobilize equipment
Collect and report on field observations
Prepare permits and regulatory documents
Perform literature reviews and background research to stay informed of current developments in the field
Perform shoreline and embankment change analysis
Report on project status to internal staff and team lead
Prepare and deliver presentations to collaborators
Prepare written reports including discussions of technical methods, analyze results, and process descriptions
Senior biological oceanographers are often recruited to a management role as they occur due to their scope of professional practice and leadership ability. While each role is different from the next, managers will encounter the following list of tasks during their tenure:
Assure proper records are kept and data management procedures are followed
Perform domestic and international field missions to conduct measurement programs
Create project timelines, actionable items and deliverables that fall within budget and schedule restraints
Advise consumers about the use and interpretation of biological oceanic data
Approve research and technical reports, presentations and articles for partners, journals, or the general public
Design biological data collection survey techniques, devices, and software for oceanic use
Test software programs and offer feedback to aid predictive population data and migration
Create and approve grant applications to fund future projects
Oversee team finances, milestones and deliverables for project management
Provide mentorship and a positive leadership experience for all technical and administrative staff
Design and plan projects so that project objectives meet the needs of clients and internal goals
What Is the Job Demand for Biological Oceanography?
This job demand for biological oceanographers is expected to grow by 7% between 2020 and 2030. Those who have engaged in internships, volunteering roles or other prior practical experience may find improved job prospects than those who have not. To follow your intended career path, we recommend finding suitable practical roles during and after your studies.*
What Are the Education Requirements to Become a Biological Oceanographer?
Entry-level jobs will require a BA or BS at a minimum. For those who wish to pursue careers as project managers, researchers or in scientific lab work, a MS or MA is preferable. Investigative jobs are possible through practical on-the-job experience with a BS or BA, the low job demand up to 2024 means this path will be more difficult. For those who would prefer independent research roles at universities, or to teach at a dedicated college or university, a doctorate is vital. Government jobs will often take those showing the most promise and the best degrees. At the very least, it is recommended that you acquire a Master's Degree in order to be eligible for Federal jobs with such organizations as NOAA and EPA.
Biological Oceanography - Related Degrees
<!- mfunc search_box_body ->
<!- /mfunc search_box_body ->
What Kind Of Societies and Professional Organizations Do Biological Oceanographers Have?
The following organizations are dedicated to promotion of work by Biological Oceanographers:
ASLO: Association for the Sciences of Limnology and Oceanography publishes a prestigious journal and has a number of awards relevant to Biological Oceanography. Limnology is the study of lake environments.
NOAA: The National Oceanic and Atmospheric Administration is the best-known organization of its kind globally. They are the major employer in Federal Government, taking on graduates in the Earth Sciences, including meteorology, climatology and oceanography.
AGU: The American Geophysical Union is concerned with geophysics as a science and as an application. For those who would prefer to focus on ocean geophysical sciences, there is no better resource.
*2020 US Bureau of Labor Statistics salary figures and job growth projections for geoscientists reflect national data not school-specific information. Conditions in your area may vary. Data accessed September 2021.
<!- mfunc search_btn -> <!- /mfunc search_btn ->