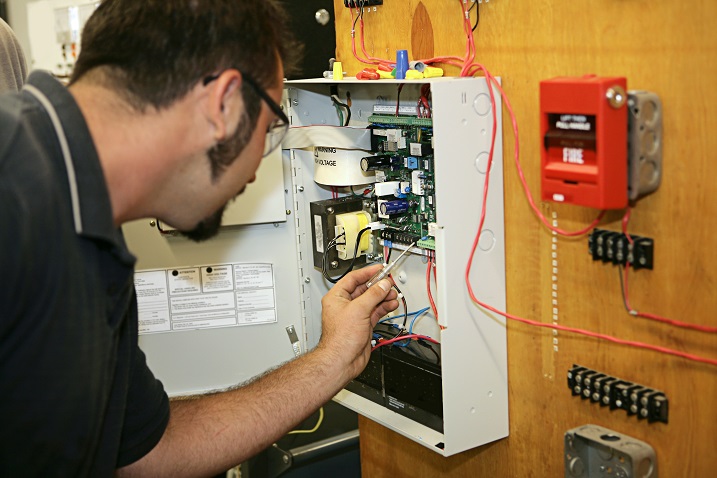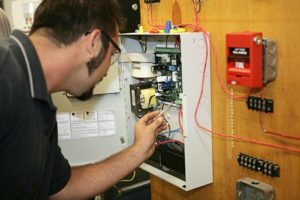 Fire Safety Specialists work on the ground implementing systems for the protection of environments, people, buildings and wildlife from the effects of fire.
What Does a Fire Safety Specialist Do?
Fire Safety Specialists are employed to promote and enhance fire safety in the environment(s) where they work. They implement systems designed by Fire Safety Engineers to ensure safe running and compliance with legislation. They may work outdoors where they are tasked with ensuring sufficient systems and equipment for forest firefighters and training staff for regulation and "common sense" application. This way, they will work with both Park Rangers and Foresters as well as general employees in risk recognition and mitigation. Ultimately, their role is to ensure proper safety programs and equipment, designed for the prevention and mitigation of fire and fire risk
They will understand active and passive equipment and use them effectively. They will keep up to date with legal requirements on health and safety, be engaged in public health and possibly legal cases of neglect or arson, depending on their area of knowledge. They can work almost anywhere, in environmental science, in the workplace and much more - always with the role of fire protection and safety.
Where Does a Fire Safety Specialist Work?
Fire Safety Specialists work everywhere that there may be a fire risk. They work in government, private and charitable sectors. They work in our buildings and with our landscapes. Where Fire Protection Engineers design systems, technology and processes, Fire Safety Specialists are the end users of these products and services. They implement and administer these systems for the protection of the environment.
All of our workplaces, be they urban or rural, need technology and systems in place to ensure that those environments are safe from fire and smoke damage. Protection laws cover wildlife, ecosystems, people and their livelihoods, the structures and buildings, the communities and anything else that may be under threat from fire and smoke. Fire destroys material, causing environmental damage - the same with smoke. That is why there are environmental planning laws and those designed to protect the public.
<!- mfunc search_btn -> <!- /mfunc search_btn ->
What Is the Average Fire Safety Specialist Salary?
No specific details exist for this role, but they are likely to reflect Fire Inspector salaries. The average median salary for these professionals was $62,120 as of May 2020. The bottom 10% earned about $39,860, while the top 10% earned about $100,780 during this time.*
Fire Safety Specialist Jobs & Job Description
Recent Fire Safety Specialist Job Listings
Use the search box below to find all the fire safety job listings in our job board.
Fire safety and protection is a necessary asset to citizens all over the world. It is the role of the Fire Safety Specialist to provide the highest level of fire safety and prevention to all parties involved. This type of service is required for all businesses, such as healthcare, factories, education centers, and retail. Staying on top of current fire safety trends and products available is valuable to the Fire Safety Specialist. The components of a career as a Fire Safety Specialist are:
A Bachelor's degree or Associate's degree in fire safety or a related field
High degree of travel may be required to assess multiple locations or clients
Shift work may be required depending on the place of employment
Inspect/audit all areas of business and maintain detailed logs and reports to provide the highest level of fire safety and protection
Provide corrective actions or recommendations if applicable based on audit results; repair and provide regular maintenance to fire related equipment
Extensive knowledge of building fire protection, safety and suppression systems
Understand and comply with all fire codes, laws and regulations
May be exposed to physical risks and must take precautions as required
Initiate fire alarms and emergency evacuations; conduct mock drills for practice and evaluative purposes
Excellent verbal and written communication skills
Respond to any fire safety complaints from employees or clients and report to a manager or director
Conduct training programs and train individuals on all aspects of fire safety
A Fire Safety Senior Specialist or Fire Safety Manager may have several specialists reporting to them. Fire Safety Senior Specialists can oversee multiple locations within a company and manage greater workloads. The criteria will include the responsibilities of a Fire Safety Specialist as well as:
A Master's degree or Bachelor's degree in fire safety with extensive experience in the fire safety field
Highly organized and delegates tasks effectively
Communicate clearly with company or agency management
Work with Fire Department Inspectors when present to determine any opportunities within the fire protection systems at place of employment
Respond to reports from Fire Department Inspectors and complaints from employees in regards to fire safety
Develop and present reports to company management and findings from Fire Department Inspectors and fire safety audits conducted
Act as first responder to any fire scene or alarm; evaluate and document the scene
Organize fire safety training programs for employees or clients; provide fire safety training
Hone excellent time management skills to develop time lines for varying workloads
What Is the Job Demand for Fire Safety Specialists?
Between 2020 and 2030, the job demand for Fire Safety Specialists is expected to grow in the region of 11%. This is the national average, sum total of all job types and all levels. Demand in industrial and commercial premises remains strong, but there is a growing demand in rural environments. As we see the growth of wildfires in the western states, especially California, there is increased demand to combat this growing problem area. Fire mitigation, prevention and firefighting will all expect more resources. *
What Are the Education Requirements to Become a Fire Safety Specialist?
Fire Safety Specialists typically have practical background as a firefighter and this will be the main entry point for most applicants. For those wish to enter into a career as a fire investigator, a background in policing is also a valid way to get there. Some also come from the medical side of emergency services, retraining from nursing for example. This means that often, a High School Diploma is all that is required. The experience is more important than the qualification.
There is a university path for those who do not wish to enter. Students should take a degree in Fire Sciences (where applicable) although another option could be chemistry. Your specialist understanding of chemicals that cause or retard flames will be beneficial in this role. For those who wish to work in the great outdoors, some understanding of ecology will be desirable. Ecology based degrees should be complemented with study modules in chemistry, or in environmental policy or health & safety law to put you in good standing.
Academic qualifications such as master's degrees and PhDs are not required unless the candidate wishes to teach in schools or colleges. Even then, this may be surplus to requirements. Educating employees or acting in an advisory role would only require the regular paths mentioned here.
Learn more about a degree in fire science.
Fire Safety - Related Degrees
<!- mfunc search_box_body ->
<!- /mfunc search_box_body ->
What Kind Of Societies and Professional Organizations Do Fire Safety Specialists Have?
The following groups represent people who work in Fire Safety specialization:
National Fire Protection Association: This organization provides the CFPS (Certified Fire Protection Specialist) scheme to recognize those with superior competency in risk detection and protection measures.
National Fire Academy: A sub department of FEMA, it permits fire protection professionals greater knowledge to prevent fires and to combat them. Part of their remit is safety and prevention.
*2020 US Bureau of Labor Statistics salary figures and job growth projections for fire inspectors reflect national data not school-specific information. Conditions in your area may vary. Data accessed September 2021.
<!- mfunc search_btn -> <!- /mfunc search_btn ->