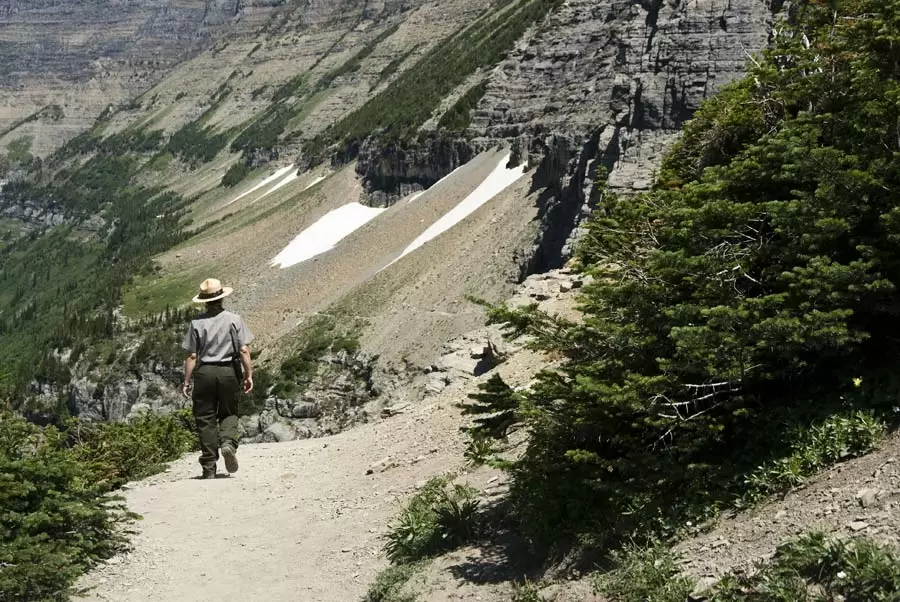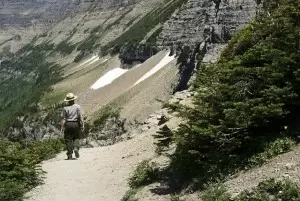 Park rangers help protect and share places of natural or historical significance. They do this by managing these areas, making them available and enjoyable to visitors. They share information on how to make the most of your trip, offer educational programs to help visitors understand the importance of the park, maintain facilities, and keep the parks safe for everyone.
What Does a Park Ranger Do?
Most park ranger positions follow one of two career paths: education and interpretation, or law enforcement (also referred to as "protection"). Those working as park educators and interpreters:
Plan and conduct educational programs for the public on the science, culture, or history of a park
Provide information about the park to guests at a visitors' center, or upon request
Conduct field trips to point out park highlights
Maintain park structures and facilities
Create educational displays and write brochures
Collect park fees
Build and maintain trails
Those in management or administrative positions manage budgets, supplies, employees and schedules.
Rangers involved in park protection patrol the grounds, possibly including backcountry areas, by vehicle, foot, and bike. They also:
Perform emergency duties to protect people, government property, and the park itself
Participate in search and rescue operations
Conduct investigations into accidents, complaints, and illegal activities
Participate in surveillance
Help manage public events
They generally need to be in good physical condition, and may be required to pass a physical fitness test as a condition of employment.
Where Does a Park Ranger Work?
Park rangers work for the government in national, state, and local parks across the country. Some parks provide housing for rangers, though resources are often limited.
The work can sometimes be strenuous. Park rangers work outside in all kinds of weather. Some work may be done in relative isolation in backcountry areas. Cleaning of campground facilities and other manual labor is often part of the job. Park rangers may also face dangerous situations, particularly when patrolling for drug and other illegal activity. They may need to confront dangerous people, and may encounter dangerous animals.
<!- mfunc search_btn -> <!- /mfunc search_btn ->
What Is the Average Park Ranger Salary?
Park rangers, who fall under the broader BLS category of forest and conservation workers, earned a median salary of $30,640 as of May 2020. The top 10% in this profession earned more than $48,700 during this time.*
Park Ranger Jobs
Recent Park Ranger Job Listings
Use the search box below to find all the park ranger job listings in our job board.
Park ranger jobs focus on protecting and conserving natural resources in a federal or state park or rangeland setting. Duties vary significantly from job to job, but the following list includes typical job duties one might encounter as a park ranger:
First response to natural or manmade threats to parkland
Combat forest fires; facilitate additional crews for emergency management
Perform search and rescue missions by means of overland, air, or technology via drone technology or GIS
Stay up to date on health and safety regulations
Provide technical park services and information to adjacent landowners, ecologists and policymakers
Assist with state lands management, resources, and wildlife
Inspect sites for environmental field reports
Work in remote park locations in all weather conditions
Process forestry specimens and samples
Assess new growth or rehabilitated areas; generate reports
Supervise herbicides and insecticides usage to manage pests, weeds, and disease
Maintain and construct facilities and equipment
Patrol forest areas on land and by air
Ensure that visitors to the area have the supplies and skills required to hunt, fish, camp, or hike in the park
Enforce state and federal wildlife laws in regard to hunting, fishing, and camping
Educate visitors and the public on a variety of conservation issues and how they might impact the park
Create and facilitate park and wildlife safety programs
Hire and train volunteer park staff
Senior park rangers are eligible for the role of team lead or manager at some point in their career. Some of the additional tasks that accompany this senior position are:
Consult with lawmakers regarding regulations which may impact the state park
Manage state parklands and resources
Oversee park assessments and environmental reporting
Prepare reports and proposals for submittal to funding agencies
Deploy and remotely manage teams in all weather conditions and locations with appropriate training and resources
Oversee the mapping of state parkland, resources, wildlife and access roads using whatever means required for accuracy
Assess and report on new growth or rehabilitated parkland
Manage the use of herbicides and insecticides to implement pest, weed, and disease control within the park and surrounding natural environs
Manage response to natural or manmade threats to forest areas
Advocate on behalf of the park and its wildlife to the public
Facilitate search and rescue missions within the park
Schedule a patrol schedule that best utilizes human resources and equipment
Create policy that regulates visitors to the park
Create park safety programs
Note staffing and funding shortfalls and work to address the gap
Provide technical forestry services and information to adjacent landowners
What Is the Job Demand for Park Rangers?
The BLS predicts job demand for park rangers to decline about 8 percent between 2020 and 2030.*
What Do Park Rangers Study?
Most park ranger positions require a four-year bachelor's degree. Rangers may have degrees in recreation and tourism management or environmental education. However, a solid background in earth science, environmental science, and biology is important for work at many locations. Many rangers have relevant degrees in biology, forestry, natural resource management and conservation, wildlife biology, or ecology. Study in these subjects prepares them for becoming park interpreters, so they can educate visitors about natural and scientific features. Some aspiring rangers study history to prepare for careers at historically significant sites, such as battlefields.
Competition for ranger positions is fierce, particularly within the National Park Service. Those with college degrees in earth and environmental sciences will have an edge in the job market. Experience is also very important. Start volunteering early - there are many opportunities for summer or seasonal volunteers. Dedicated future rangers start with volunteer work while in high school. Volunteering at the same park for a few years in a row can help strengthen your connections with insiders, so they'll remember you when it comes time to apply for full-time or seasonal paid positions.
Employment with the National Park Service (NPS) is limited to American citizens. Candidates may also need to meet age and physical qualifications.
New federal employees in the national parks have two years to complete the NPS Fundamentals program, an orientation to the agency that involves travel to onsite training in Washington, D.C. and Grand Canyon National Park. Continuing education opportunities are available through NPS.

Degrees Related to Park Rangers
<!- /mfunc search_box_body ->
What Kind of Societies and Professional Organizations Do Park Rangers Have?
The National Recreation and Park Association (NPRA) administers a certification program for park professionals. Four types of certifications are available. The broadest is the Certified Park and Recreation Professional (CPRP). There are also certifications for park executives, aquatic facility operators, and playground safety inspectors. NRPA also offers continuing education. Its career center posts jobs, as well as peer-to-peer advice and information on professional trends.
*2020 US Bureau of Labor Statistics salary figures and job growth projections for forest and conservation workers reflect national data not school-specific information. Conditions in your area may vary. Data accessed September 2021.
<!- mfunc search_btn -> <!- /mfunc search_btn ->