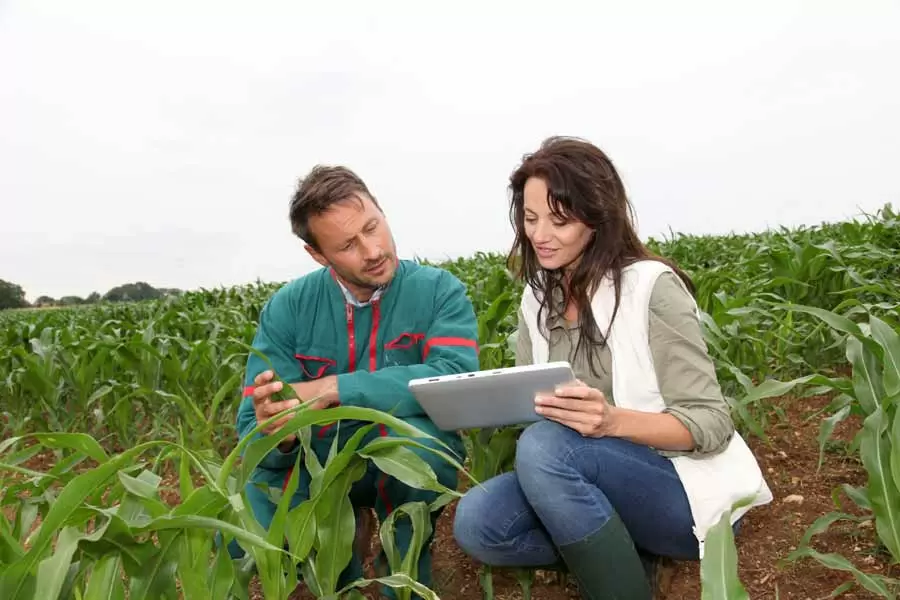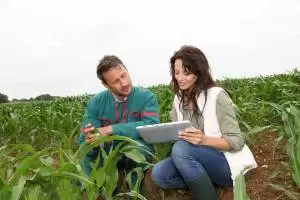 Agricultural Engineering is the area of engineering concerned with the design, construction and improvement of farming equipment and machinery.
Agricultural engineers integrate technology with farming. For example, they design new and improved farming equipment that may work more efficiently, or perform new tasks. They design and build agricultural infrastructure such as dams, water reservoirs, warehouses, and other structures. They may also help engineer solutions for pollution control at large farms. Some agricultural engineers are developing new forms of biofuels from non-food resources like algae and agricultural waste. Such fuels could economically and sustainably replace gasoline without jeopardizing the food supply.
What Do Agricultural Engineers Do?
While agricultural engineers may develop specialties, most are involved in certain core activities. For example, most professionals design and test agricultural machinery, equipment, and parts. They may also design food storage structures and food processing plants. Some may design housing and environments for livestock.
Those interested in sustainability may provide advice on water quality and water pollution control issues. They may also plan and oversee land reclamation projects on farms. Others may be involved in agricultural waste-to-energy projects and carbon sequestration (absorbing carbon dioxide from the atmosphere into the soil, crops and trees).
Where Does an Agricultural Engineer Work?
As of May 2012, most agricultural engineers (17%) were employed in architectural, engineering and related services. 16% were employed by the federal government. Another 14% worked in food manufacturing. 13% worked in agriculture, construction, and mining machinery manufacturing. Another 6% were employed as educators.
Agricultural engineers work both indoors and outdoors. They spend time in offices creating plans and managing projects, and in agricultural settings inspecting sites, monitoring equipment, and overseeing reclamation and water management projects. These positions may involve a significant amount of travel. These engineers may also work in laboratories and classrooms. They may collaborate with others to plan and solve problems. For example, they may work with horticulturalists, agronomists, animal scientists, and geneticists.
What Are Work Schedules Like?
Agricultural engineers usually work full time, including occasional overtime. For example, they may work long hours to make progress on projects during periods of good weather. They are also often on call to manage problems that may arise on various projects.
<!- mfunc search_btn -> <!- /mfunc search_btn ->
What Is a Typical Agricultural Engineer's Salary?
As of May 2020, agricultural engineers earned a median salary of $84,410. It is a highly skilled job, but salary can vary by state and by sector. This is the kind of role that graduates and experts may work in the private sector, public or charitable areas.*
Agricultural Engineering Jobs & Job Description
Recent Agricultural Engineering Job Listings
Use the search box below to find all the agricultural engineer job listings in our job board.
Agricultural Engineer jobs focus on the science behind food and farming, and how to help today's agricultural methods and products meet global and national food demands. While tasks vary significantly from job to job, the following list includes standard duties that an agricultural engineer will encounter:
Plan and design the building of irrigation, drainage, and flood- and water-control systems
Review research and literature relating to current discoveries in the field
Collect field and control samples of biological samples and non-living media in order to perform analyses
Engineer the construction of agricultural buildings and storage facilities in order to engineer a system that is the most efficient while also the most cost effective
Design equipment and machinery used for field preparation, seeding, spraying, harvesting, and transporting agricultural products
Ensure equipment design is consistent with local codes and farming culture as well as catering to the resources available in the region
Supervise all aspects of the production and delivery of agricultural products from seed to table
Prepare and present technical reports, meet with clients, and communicate technical concepts to internal and external stakeholders
Advocate for sustainable agriculture on a local and national level to interested parties
Research to find new ways of farming, harvesting, and storage
Conduct research for the design of new structures and systems
Conduct research in the field and lab to develop practices for food production that protect the environment
Senior agricultural engineer jobs often have an added level of managerial tasks to facilitate the scheduling, budgeting, and communications needs of various projects. Some common tasks may include:
Doing paperwork, analyzing data, and preparing reports for external stakeholders
Drafting and implementing construction plans and computerized management plans
Planning projects, administering and managing budgets
Participating in longitudinal safety analyses
Communicating with internal and external clients, stakeholders, and government departments
Researching and collecting contextual information for case studies
Supervise the construction of flood- and water-control systems
What Is the Job Demand for Agricultural Engineers?
Despite that our reliance on agriculture will only continue to grow, and researchers will always be looking for ways to improve yield through biotech, agritech, landscape management and civic works, demand is not expected to experience significant growth for the foreseeable future. According to the BLS, in 2020 there were 1,500 people employed in this industry and similar roles in the USA. Outlook for growth is moderate, with an increase of about 5% expected between 2020 and 2030.*
Getting an Agricultural Engineering Degree
Entry-level jobs in agricultural engineering require a bachelor's degree, preferably in agricultural or biological engineering. Such programs typically include classroom, laboratory, and field studies in science, math, and engineering. Participating in a cooperative program to gain practical experience while in college is highly recommended.
Agricultural engineers who offer their services directly to the public must be licensed as professional engineers (PEs). Licensure generally requires:
A degree from an ABET-accredited engineering program
A passing score on the Fundamentals of Engineering (FE) exam
Relevant work experience, typically at least 4 years
A passing score on the Professional Engineering (PE) exam
College graduates may take the Fundamentals of Engineering (FE) exam immediately. Engineers who pass this exam are called engineers in training (EITs) or engineer interns (EIs). After gaining four years of work experience, EITs and EIs can go on to take the Principles and Practice of Engineering exam to qualify for licensure.
Several states require engineers to participate in professional development activities in order to keep their licenses. Most states recognize licensure from other states, as long as that state's requirements meet or exceed their own licensure requirements.
Presently, there are around 15 colleges in the US that specifically offer Agricultural Engineering or similar at bachelor's. Most students will apply for a standard Engineering degree and then attempt to focus their majors on agriculture, land planning, GIS (Geographic Information Systems) or similar. You will be expected to display proficiency in math, hard sciences (especially physics) and English.
Engineering is a STEM subject, highly sought and well paid. Generally, you may not expect to struggle to find the sort of work that you want regardless of your qualifications. However, Agricultural Engineering is an area of low growth and limited jobs. A postgraduate qualification will improve your employability considerably, but you should look on the periphery and outside the immediate subject area. Academia may be one route available to you, but it is one of the lowest paid roles with this type of qualification.
<!- mfunc search_btn -> <!- /mfunc search_btn ->
Where Can This Career Take Me?
Agricultural engineers may advance to supervisory and management positions over time. Some go into sales, explaining machinery and products to potential customers, and helping with product planning, installation, and use.

Agricultural Engineering - Related Degrees
<!- /mfunc search_box_body ->
What Kind of Societies and Professional Organizations Do Agricultural Engineers Have?
The American Society of Agricultural and Biological Engineers (ASABE) (http://www.asabe.org) - Helps professionals share ideas, stay current, keep their skills fresh, and advance their careers. The society has 8,000 members in over 100 countries throughout the world.
The National Society of Professional Engineers (NSPE) (http://www.nspe.org) - Represents licensed PEs across all disciplines, as well as those currently working on their licensure. It helps engineers navigate the licensing process, and serves as the authority on ethics and professional practice.
International Commission of Agricultural and Biosystems Engineering (CIGR) (http://www.cigr.org/) - The largest global body of its kind, they are a global organization that brings together the worldwide community of Agricultural Engineering professionals. They represent private and public bodies, and national organizations.
European Society of Agricultural Engineers (EurAgEng) (http://www.eurageng.eu/) - The European Society of Agricultural Engineers promotes the profession, public awareness and research. They are highly active, taking part in conferences all over the continent. They are one of the signature members of CIGR.
*2020 US Bureau of Labor Statistics salary figures and job growth projections for agricultural engineers reflect national data not school-specific information. Conditions in your area may vary. Data accessed September 2021.