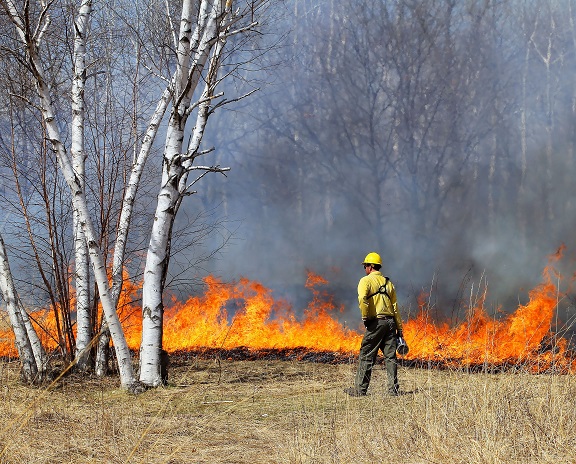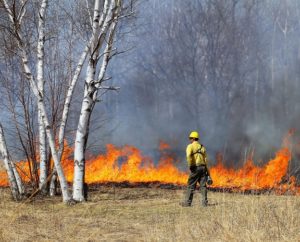 Fire and Fuel Managers maintain healthy growth of our wilderness and woodlands by controlling natural and artificial fires and using fire to promote ecological health.
What Does a Fire and Fuel Manager Do?
The various ecologies that make up the American landscape are complex. They require the utmost care and attention to keep them in balance. Biological health including plants, animals and microbes, and human health are all vital "cogs in the machine" for the ecology. Many of these aspects must be managed to the detriment of the others in order to promote the ecology. One of the tools by which this happens is forest fires. These are a natural part of the American ecology, especially in the dry western states. Where they occur natural or as the result of human failure to take the right precautions, Fire and Fuel Managers are tasked with controlling the spread of these fires.
They may also start controlled fires in order to promote health of the ecology. This is a common practice all over the world. It is good for the ecology, for the various lifeforms that live in those forests and for the plants themselves that aging plants are destroyed to make way for new growth. There will be laws and regulations on which fuel to use and how the controlled forest fire should be conducted. This is done as per state and / or Federal forestry and agriculture law.
Where Does a Fire and Fuel Manager Work?
The majority are employed by local, state and Federal government. Forestry and agricultural conservation is a public service provided by government agencies and they will work directly for those agencies. Typically, this might include the US Forest Service, National Parks Service, as employees of the state government at state parks and so on. Most will work for the US Forest Service as these employees specialize in woodland management. Another option may be the Bureau of Land Management, an organization that employs firefighters, land conservationists, sustainability experts and others working on the land.
There will also be opportunities in disaster relief organizations in the government sector (such as FEMA) or in environmental charities that work with the government or other third sector bodies in disaster relief.
<!- mfunc search_btn -> <!- /mfunc search_btn ->
What Is the Average Fire and Fuel Manager Salary?
There is no specific data for Fire and Fuel Managers, but as these specialists work in Forestry and conservation, the salary information is likely to be similar. Median salary at 2020 was $64,010. There is great variation depending on where the employee works, and whether they work for a local government or a Federal government body. The lowest 10% of the salary range earned in the region of $39,230. The highest 10% earned in excess of $100,000. Although they will typically work a 40-hour week, call outs for emergencies are expected.*
Fire & Fuel Managment Jobs & Job Description
Recent Fire & Fuel Management Job Listings
Use the search box below to find all the fire and fuel manager job listings in our job board.
Fire and Fuel Managers specialize in fire management and prevention of forested and natural areas throughout the United States to promote healthy ecosystems and safe urban areas. Typically a Fire and Fuel Manager will require:
An undergraduate degree in forestry, ecology or related field of study
Ability to work effectively independently or within a team
A High degree of knowledge of ecological succession and vegetation in certain biomes or regions
The ability to work outdoors for extensive durations in remote areas
The ability to plan projects remotely in an office environment
Understand and abide by local fire laws and regulations
Manage and wear personal protective equipment
Keep up-to-date and an organized inventory of PPE, equipment, and transportation assets
Create and plan ecosystems with species of vegetation that are fire resilient for areas that are prone to wildfires
Plan fire management protocols for areas of forest, pasture, urban and suburban landscapes
Analyze and assess vegetation in key areas to determine fuel potency and risk for wildfire
Assess post-wildfire vegetation to determine fuel efficiency in re-ignition of wildfire and regenerative capabilities
Coordinate with ecologists to conduct flora and fauna surveys, post incident
Coordinate with other fire personnel as required
Assist in maintaining land areas clean and free of finer particles such as pine needles or dry debris that tend to ignite easily
A Senior Fire and Fuel Manager provides highly specialized insight and management into the fire prevention industry. This job requires the following skills:
An undergraduate degree in forestry, ecology or related field of study with extensive experience in fire and fuel management
Ability to lead teams to effectively plan, ignite and extinguish controlled fires
Knowledge of vegetation that burns easily
Landscape and xeriscape in order to minimize fire damage and spread
Use computer programs to simulate a controlled fire
Use projected data to analyze and determine a particular outcome; craft a management plan and make adjustments as necessary
Effectively train personnel to undergo a variety of fire, safety and fuel projects
Provide remediation plans for land areas in the event of a wildfire to prevent future wildfires from occurring
Predict fire volatility of ecosystems based upon the vegetation and types of fuel present
Determine wildfire risk assessments of areas of land for government or private land owners
Present information and provide consultation to government or private land owners
Delegate tasks and oversee large scale operations
What Is the Job Demand for Fire and Fuel Managers?
The demand for Fire and Fuel Managers is expected to grow 7% between 2020 and 2030. However, this will have regional variation due to ongoing issues with wildfires in forested areas. In the dry states of the southwest (such as California, Arizona, and New Mexico), more specialists may be needed to cope with the increased frequency and intensity of wildfires. This 7% average is just that - an average. Demand will also be higher in those states with extensive forests to manage, also depending on the risks associated with those forests.*
What Are the Education Requirements to Become a Fire and Fuel Manager?
A number of qualifications will be required in order to become a Fire and Fuel Manager. Typically, you will need a degree in forestry or related. Ecology can be a good alternative, though the focus should be on woodland management. Forestry degrees are preferable because of the opportunity for practical work. Once this has been achieved, the candidate will need training in Federal schemes such as the National Fire Plan. Other certificates may be required depending on the state, body, service or area where you might work. Check local authorities for further information.
No master's degree or PhD should be required as these are qualifications designed for academic and research roles. Fire and Fuel Managers and Forestry Managers are practical roles requiring on the job training and practical solutions.
Read more about fire science degrees.
Fire & Fuel Management - Related Degrees
<!- mfunc search_box_body ->
<!- /mfunc search_box_body ->
What Kind Of Societies and Professional Organizations Do Fire and Fuel Managers Have?
The following groups represent people who work in this area of forestry:
Society of American Foresters: The SAF is a members only organization that imparts professional knowledge to stakeholders and landowners to encourage good working practice of forested areas.
National Park Service: Celebrating its centenary in 2016, The National Parks Service is the largest Federal body dedicated to protection, promotion and conservation of our wilderness areas. They employ a large number of Fire and Fuel Managers.
US Forestry Service: The largest Federal body focusing on forests, they promote and manage woodland across 44 of the 50 states and land in Puerto Rico. They work with the public and private agencies.
*2020 US Bureau of Labor Statistics salary figures and job growth projections for conservation scientists and foresters reflect national data not school-specific information. Conditions in your area may vary. Data accessed September 2021.
<!- mfunc search_btn -> <!- /mfunc search_btn ->