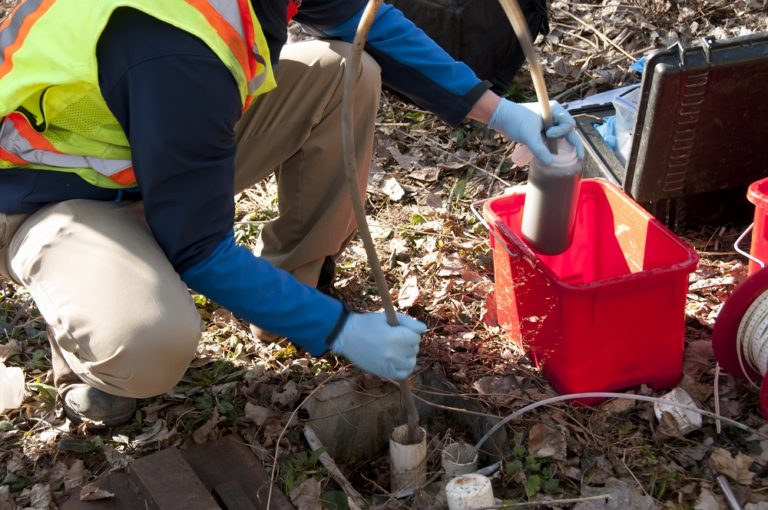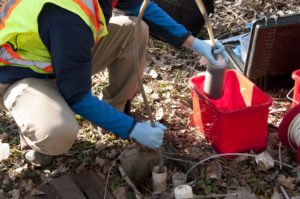 Groundwater Sampling Technicians take samples of groundwater - rivers, lakes and water tables to measure their properties.
What Does a Groundwater Sampling Technician Do?
Much of the conclusions of environmental science is made up of the results of sampling. Experts take air, water and other environmental samples to build an understanding of the ecology. These can be used for a variety of purposes that include pollution monitoring, the ecological profile, wildlife (including microbial life) and much more. Groundwater Sampling Technicians specifically examine bodies of standing water for much the same information. They work alongside environmental technicians such as hydrologists, biotechnologists and others to examine problems with bodies of groundwater.
Their role is not just in environmental monitoring though. Historic data such as paleoenvironmental readings, archaeology (including anthropology) and paleontology are other areas where there skills are required and utilized. The information they collect can tell us a great deal about the environment in the past. They may look for pollen and spore samples and microfossils in groundwater and silt. They will be looking for slightly different attributes than those looking for modern data, and use it differently, but their methods and intended outcomes are the same - to build an environmental picture.
Where Does a Groundwater Sampling Technician Work?
Where a Groundwater Sampling Technician will work depends on the career path they choose to pursue. Essentially, they will either work in the field collecting samples or in labs and offices analyzing the data. Their job is essentially the same no matter where they work, but they have a wide range of options available. The first major employer (26%) of Groundwater Sampling Technicians is scientific and technical consulting as independent bodies. They may be called upon on a contract basis to monitor pollution levels for government agencies, for businesses, for research projects or for developers. A wide range of organizations use this information in decision making.
The next largest employer is government bodies (25%) mandated with environmental protection responsibilities. Typically, this will include the EPA and state regulators and environmental remediators amongst others. They may also work for National Parks and State Parks, and designated forests ensuring that users, residents and organizations nearby comply with their environmental responsibilities. Around 13% work in labs. They will generally not work in the field collecting samples, but will examine the water samples collected by others.
A small percentage, around 6%, work for engineering services including government, and for building and development such as construction and civic works. Environmental protection laws require that modern developments adhere to certain standards.
<!- mfunc search_btn -> <!- /mfunc search_btn ->
What Is the Average Groundwater Sampling Technician Salary?
Groundwater sampling technicians, who fall under the broader BLS category of environmental science and protection technicians, earned a median salary of $46,850 as of May 2020. The highest paying sector is local government, with a median salary of $51,510. Lab workers earned lower than average with a median of $40,560. State government, management scientific and consulting paid around the median average within a few hundred dollars per year.*
Groundwater Sampling Techncian Jobs & Job Description
Recent Groundwater Sampling Tech Job Listings
Use the search box below to find all the groundwater sampling technician job listings in our job board.
A Groundwater Sampling Technician provides valuable data about water systems to be used in a variety of industries, such as determining potable well water, construction developments and waste disposal. The skill set required for this position is:
Capability to travel to required field sites and collect groundwater samples
Dexterity to work in varying site conditions where steep slopes and rugged terrain may be present
Ability to work in extreme weather conditions and temperatures
Capacity to work independently or within a team
Knowledge of sampling methods for collecting groundwater samples
Label and properly store samples collected
Produce technical reports of sampling information collected that accurately reflects findings
Possess special training, such as a 40 hour OSHA HAZWOPER training
Ability to use GPS (Global Positioning Systems) to locate field-sampling sites
Possess computer skills to enter sampling information into databases
Provide groundwater consultation to clients
A senior level position as a Groundwater Sampling Technician uses the same set of skills as an entry-level position and may include specialized skills or tasks like:
Hold a Bachelor's of Science degree in environmental science field of study
Knowledge of various groundwater sources and systems
Oversee a team of technicians and mentor the team
Provide job specific training to technicians
Develop new training programs to improve work efficiency and safety
Communicate technical reports at meetings and seminars
Design aspects of a groundwater sampling project
Develop detailed budgets for groundwater sampling projects
Highly motivated to complete several tasks at the same time and meet deadlines
Routinely calibrate, inspect and maintain all sampling equipment
What Is the Job Demand for Groundwater Sampling Technician?
As our commitment to cleaner air and water increases in line with international agreement, BLS suggests a 11% growth in demand for all sampling technicians between 2020 and 2030. This is faster than the sum total of all jobs across the country. As the western world moves to fracking, concerns about the environmental impact potentially means that demand could be even higher in those areas where new fracking and other mining operations expect to take place. Environmental protection is very much a modern issue as people become more mindful of the problems of the different types of pollution.*
What Are the Education Requirements to Become a Groundwater Sampling Technician?
At the minimum, candidates are expected to have a bachelor's degree in an environmental related science. Botany, biology, microbiology, ecology or conservation are fairly standard choices. Many of these are suitable degree types. Minors and electives in math, physics and chemistry will be beneficial, as will statistics. This will depend on to what extent the candidate will expect to work with quantitative data. Extensive fieldwork should be a part of a degree, whether in a lab or collecting samples.
A master's degree will put students in much better standing as these involve far greater detail, individual project work and independent learning. Students will be expected to conduct their own analyses and write their own reports. The MA/MS dissertation will be closer to the work that you will carry out professionally than anything at undergraduate level. Therefore, a MA/MS is highly recommended, but not vital, especially if the student has relevant ecology and math background at BA/BS.
Doctorates are suitable for those wishing to teach and research in university departments. They may also be suitable for those who feel a career in government consultancy and decision making is more in line with their career preferences.
Groundwater Sampling - Related Degrees
<!- mfunc search_box_body ->
<!- /mfunc search_box_body ->
What Kind Of Societies and Professional Organizations Do Groundwater Sampling Technicians Have?
Despite being a niche area, the following bodies represent or bring together Groundwater Sampling Technicians:
National Groundwater Association: They represent water sampling professionals and those who work with them to ensure that government policymaking complies with law in line with science
National Environmental Health Association: The organization represents 5,000 members across the US advancing environmental health for the benefit of everyone. Although not specific to groundwater, evidence is part of their mission
European Environment Agency: Although not specific to groundwater sampling, the EEA is a body of the European Union concerned with environmental protection. They conduct primary research and provide independent advice to various bodies throughout the EU
*2020 US Bureau of Labor Statistics salary figures and job growth projections for environmental science and protection technicians reflect national data not school-specific information. Conditions in your area may vary. Data accessed September 2021.
<!- mfunc search_btn -> <!- /mfunc search_btn ->