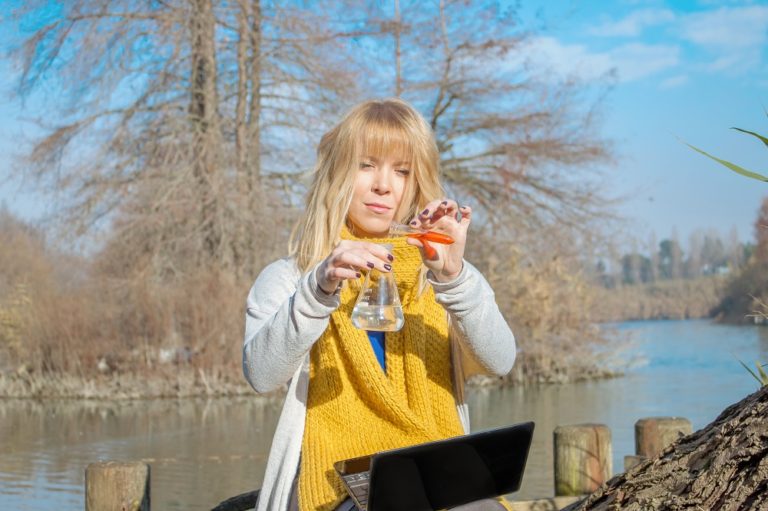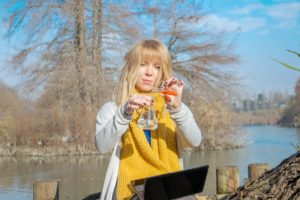 Environmental sampling technicians take environmental samples of the elements around us to examine its composition.
What Does an Environmental Sampling Technician Do?
Environmental sampling is essential in measuring the effects and composition of environmental change. Samples may be taken for public health purposes, environmental health, ecological reasons, health at work or to build a picture of change over time (climate science, ancient environmental data for example). Environmental Sampling Technicians are employed to take samples from soil, water and the atmosphere. They may also be employed to take air quality samples from inside work places to ensure regulation compliance (mines, factory ventilation and so on). Therefore, they may look for pollutants and signs of elevated radiation, dust and asbestos in the workplace. In terms of climate science, they may be interested in changes over time - looking for signs of the change in makeup of life forms over time. Dry sand beds may once have been tropical oceans. Environmental Sampling Technicians take these samples to build an image of the current environment and the environmental conditions as they were in the past.
Therefore, they may work in paleontology, paleobotany, archaeology, paleoenvironment and many more areas where sampling skills may be required to look for natural or human-caused changes.
Unlike Environmental Monitors, they are unlikely to play a part in decision making and policy forming. They are unlikely to be in advisory roles or be higher up in an organizations echelons. However, they are more likely to be involved with cataloguing and record keeping, and work in archives and storage.
Where Does an Environmental Sampling Technician Work?
Some 36,000 people presently work in environmental sampling and monitoring at present in the USA. Most are employed (some 26%) by privately owned technical and scientific services. These may hire out their services to other businesses or to local and Federal government agencies for specific tasks. Government owned facilities that cause a potential hazard may require strict monitoring and sampling (nuclear power stations, mines
Local government is the next best employer by numbers, approximately 18%. Employees within this area work for protection agencies and environmental monitoring sites at a local level. Examples include sites recorded as having special protection work. Businesses who work nearby and people who live nearby may be expected to hold up certain standards. Sampling will take place to ensure continued compliance. Similarly, around 8% work at a state government level. 12% work in labs, archives and other desk jobs for universities and record offices. 6% work for engineering services.
<!- mfunc search_btn -> <!- /mfunc search_btn ->
What Is the Average Sampling Technician Salary?
Environmental sampling technicians earned a median salary of $51,630 as of May 2020. The highest paid were in manufacturing, where they earned a median salary of $57,820, followed by those in government, where they earned a median salary of $57,210.*
Environmental Sampling Technician Jobs & Job Description
Recent Environmental Sampling Job Listings
Use the search box below to find all the environmental sampling technician job listings in our job board.
A career as an Environmental Sampling Technician is highly technical and definitely hands on. Collecting samples and analyzing samples is the main component of this exciting job. An Environmental Sampling Technician is required to:
Have knowledge and experience working in a scientific field of study related to the environment
Collect and study samples from one type of source such as water, soil and air, or collect and study multiple types of sources at multiple locations
Test samples that have been previously collected in a laboratory environment using specialized equipment and procedures
Set up, calibrate, stock and utilize mobile laboratories in remote locations if required
Maintain regular calibration of sampling and/or laboratory equipment
Travel to remote locations while working on a project to sample various sites
Work at a single location and take regular samples as required for data gathering
Sample homes and test either on-site or in the lab, for example radon testing or well water testing
Analyze and compare samples to determine changes or similarities at environmental sites
Work independently with minimal supervision or closely with a team of individuals across various disciplines or seniority levels
Possibly work in extreme cold or hot environments, dense air particulates, or amidst loud noise
Keep detailed data reports of all sampling information collected
A senior level position as an Environmental Sampling Technician will specialize in a particular environmental field and may have individuals reporting to them or manage projects. A senior level position will include duties such as:
Specialize in an area of environmental sampling, for example soil sampling, groundwater sampling, or emissions
Take scheduled samples of particular sampling sites and keep samples clearly labeled
Manage sample analysis in the laboratory or send samples to be tested
Record accurate sampling observations and data to provide to management
Provide training opportunities for staff members on procedures and health and safety
Organize sampling data using databases or spreadsheets into periodic reports- daily, weekly, monthly or annual reports
Ensure regular and proper calibration on sampling and testing equipment
Work with a team of technicians to obtain multiple samples; deploy tasks as needed
Thoroughly understand various sampling methods and how different methods can obtain different results
Oversee large sampling operations and create sampling schedules
What Is the Job Demand for Environmental Sampling Technician?
We can expect to see a 8% increase in employment levels among environmental sampling technicians between 2020 and 2030.* This is likely to be down to improvements to the workplace environment and future government commitment to environmental issues in future - both at work and for the ecology. Sampling is likely to play a much larger role in environmental monitoring. Greater reliance on environmental sampling in climate science will also contribute to increased demand. Due to diversity of the skill set, those with extensive experience working in a lab or archive will experience more demand over those who do not.
What Are the Education Requirements to Become an Environmental Sampling Technician?
Prospective Sampling Technicians will be expected to have a bachelor's degree. Those with degrees in the relevant hard sciences such as chemistry and biology, or in environmental science will be especially suitable. This role will include much fieldwork and the requirement of in-depth understanding of a niche area will be vital to career development. Environmental science background will be especially suitable for those who wish to study ancient sampling - paleoecology, paleobotany and paleontology. Sampling technicians can also come at the job from an archaeology background providing that the degree featured environmental data. Where minors and electives are available, these should be preferred when taking a degree in archaeology or anthropology.
For most sampling jobs a master's degree is preferable but not vital. Candidates who seek eventual lab work or greater responsibility including director roles should take a postgraduate course. These roles are unlikely to lead to policy or decision making roles.
Environmental Sampling - Related Degrees
<!- mfunc search_box_body ->
<!- /mfunc search_box_body ->
What Kind Of Societies and Professional Organizations Do Environmental Sampling Technicians Have?
The following are dedicated to environmental professionals who work in sampling:
NGWA: The National Ground Water Association is the ideal professional working group for those involved in the sampling of ground water and how to make good decisions based on scientific analysis. Part of its remit is public outreach
EPA: The Environmental Protection Agency is the Federal government's premier authority on environmental regulation. As far as national government goes, they employ the most Environmental Sampling Technicians than any other organization
IEMA: one of the world's most influential body for environmental managers and assessors, The Institute of Environmental Management and Assessment provides guidance and a a network for environmental professionals to come together for sustainability
<!- mfunc search_btn -> <!- /mfunc search_btn ->