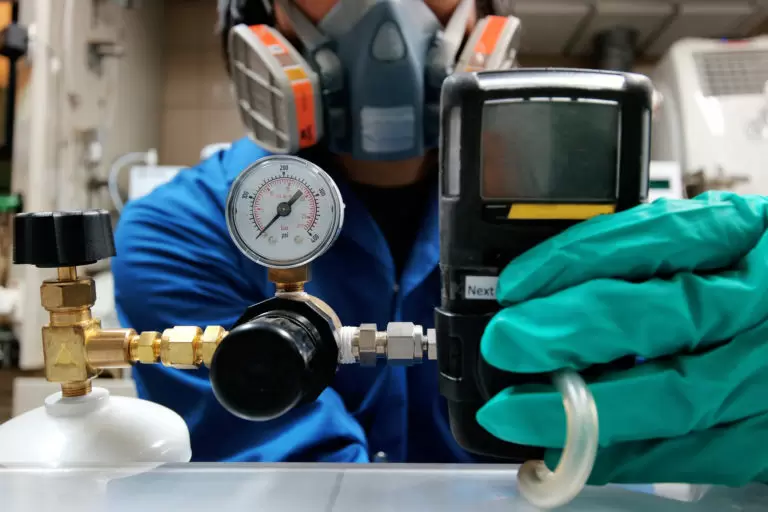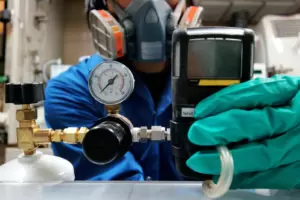 They are at the front line of monitoring and repairing electronic scientific equipment, sometimes working in confined spaces.
What Does an Instrumentation Calibration Technician?
Working with electronic equipment in a scientific environment, their job is to monitor, examine and test commonly used specialist electronics, and perform basic calibrations to ensure that the equipment is functioning properly. They work in a wide range of laboratory environments such as chemical analysis, biotechnology, medical research and pharmaceuticals and genetics labs, but always with the same kinds of responsibilities.
They are required to understand electronics and instrument function without necessarily needing to understand the scientific testing for which they are used, merely understanding functional efficiency. It is their responsibility to provide ongoing monitoring of equipment that researchers use every day. Typical equipment includes incubators, thermometers, and centrifuges. Sometimes this will require entering confined spaces where there may be a risk of injury and a knowledge of health and safety practice in labs and production areas is also paramount. Their role may also perform safety checks as well as efficiency calibration.
They will also have administrative duties including report writing, verbal communication, preparing requisition orders for replacement parts or to hire specialist repair technicians if they do not have the knowledge to conduct such repairs on-site. IT skills, particularly in using specialist calibration software, forms a part of this role and is usually learned on the job.
Where Does an Instrumentation Calibration Technician Work?
There is little specific data for Instrumentation Calibration Technicians, but they are broadly classed as Electro-Mechanical Technicians for statistics although these can work in a wide variety of environments, not just in scientific laboratories and the environmental sector. Payscale.com reports that most employees in this area work in electrical engineering (as seen in the industries listed below) and medical.
The largest employer of this type of technician is in semiconductors and electronic component manufacturing. They work in environments to ensure that the machinery associated with manufacturing complex scientific parts perform as expected.
The second biggest area of employment is in medical machine manufacturing, performing similar roles to semiconductor production but for medical devices and electronic equipment. They employ 10% of employees. Transportation engineering employs 9%, engineering services 8% and machinery manufacturing 7%. Engineering services most closely resemble the employment area of those who work in labs and with scientific instrumentation, but this requires no specialist knowledge beyond the technical and engineering aspect common to all industries.
<!- mfunc search_btn -> <!- /mfunc search_btn ->
What Is the Average Instrumentation Calibration Technician Salary?
According to the BLS, instrumentation and calibration technicians, who fall under the broader BLS category of electrical and electronic engineering technologists and technicians, earned a median salary of $67,550 as of May 2020. The lowest 10% of earners earned about $40,170, while the highest 10% of earners earned more than $99,810. The major influencer on the higher salaries is experience and certification with more complex equipment specialists enjoying greater demand.*
Instrumentation Calibration Technician Jobs & Job Description
Recent Instrumentation Calibration Technician Job Listings
Use the search box below to find all the calibration technician job listings in our job board.
Instrumentation calibration technician positions generally require a background in laboratory science. An instrumentation calibration technician at the beginning of his or her career may be tasked with the following duties:
Maintain, test and repair a variety of instrumentation and test equipment
Provide onsite and in laboratory calibration services on a variety of devices
Set up test equipment and conduct tests on performance and reliability of equipment
Support calibration technicians on general laboratory equipment calibrations
Follow safety procedures and industry best practices to ensure safety of technician and others
Modify performance and operation of component parts and circuitry using test equipment and precision instruments
Build customer relationships by offering support for customers' calibration and maintenance programs
Work with vendors and order parts necessary for a repair of machinery
Perform preventative maintenance on test equipment
What Is the Job Demand for Instrumentation Calibration Technicians?
The BLS reports that job demand for this profession will grow by just 2 percent between 2020 and 2030, which is likely explained by increased automation of some electrical engineering and calibration tasks.*
What Are the Education Requirements to Become an Instrumentation Calibration Technician?
The highly technical nature of this roles means that most employers require the student hold a relevant associate degree. Typical subjects include industrial engineering or electronics/instrument technology. Those working in specialist science labs (for example, biotechnology, genetics, medical research, microbiology) areas may require the technician to hold a basic understanding of the scientific principles of the labs with which they will work. High school students should ensure they register sufficient grades in math and IT, but also in the hard sciences of chemistry, biology or physics. This will permit access to a relevant degree.
Some colleges provide specific instrument technology Associate of Applied Science degrees that train them in the essentials of electrical engineering and safe practice. You will find community colleges in your local area offer these more often than big state universities. If the student wishes to enter a career in laboratory instrumentation calibration, he or she should seek minors and electives that cover the relevant sciences although certification in a specific field is the preferred method of accessing such a niche in the modern employment market. They are not always necessary; students should check the industry in their local area for further details due to the broad nature of this type of work.
Full degrees and postgraduate courses are not necessary as this is an applied science, not a teaching or research position. If a student wishes to teach this subject, they should pursue a degree or equivalent in teaching.
Instrumentation Calibration Technician - Related Degrees
<!- mfunc search_box_body ->
<!- /mfunc search_box_body ->
What Kind of Societies and Professional Organizations Do Instrumentation Calibration Technicians Have?
Covering electrical and electronic engineering, the following bodies exist to aid students and professionals working in the field.
*2020 US Bureau of Labor Statistics salary figures and job growth projections for electrical and electronic engineering technologists and technicians reflect national data not school-specific information. Conditions in your area may vary. Data accessed September 2021.
<!- mfunc search_btn -> <!- /mfunc search_btn ->