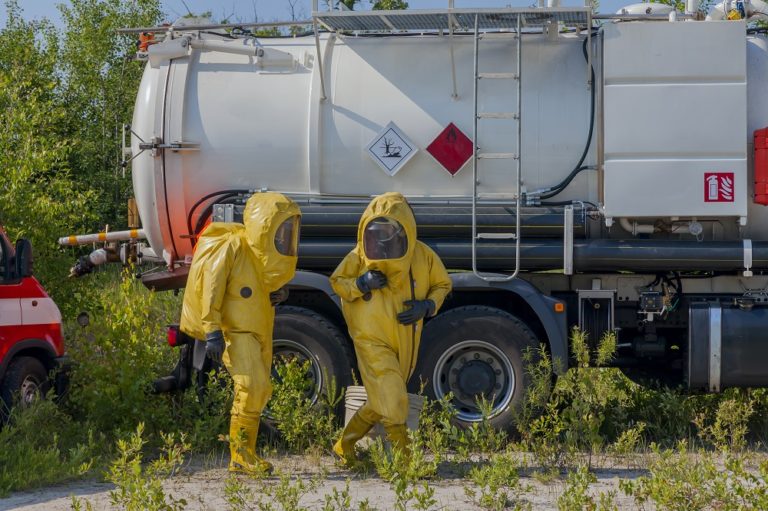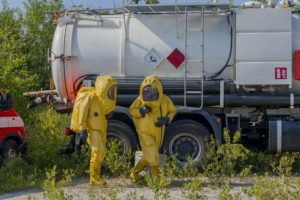 Radiation Protection Technicians design systems and training for mitigating the effects of radiation.
What Does a Radiation Protection Technician Do?
Radiation Protection Technicians use a series of protocols and technology to reduce the risk and mitigate the effects of radiation leaks. Their job philosophy is ALARP (As Low As Reasonably Possible). This means that understand that exposure is sometimes necessary. Radiation exists in a natural form in our atmosphere and most exposure is harmless. As radiation has a half-life (it reduces by half over a given period), it will never go away. Radiation Protection Technicians understand this, and they understand the difference between safe and dangerous levels of radiation.
They may work at or around nuclear power plants, but they are also involved in reducing and mitigating radiation in other sources. Some geological formations have higher levels of radiation. For example, granite is known to have higher concentrations of uranium particles. Without monitoring and control, this can increase the risks of illnesses associated with radiation exposure.
They are not generally responsible for decontamination and clean-up, but they may often be on site for accident areas offering advice on mitigating the effects of the accident and providing information on risk reduction to those who work and live nearby. They may also be involved in monitoring and compiling potential solutions.
Where Does a Radiation Protection Technician Work?
There are three main areas where Radiation Protection Technicians might be employed. The major area is in environmental waste management and remediation. This is a broad area, but will typically be in private businesses, providing either practical skills or advice. Other organizations may hire them on a contract basis to provide advice on radiation protection or mitigation or as part of a clean-up team. The Radiation Protection Technician may or may not be part of the cleanup, but they may watch for potential problems that they will then put in their report for recommendations. Employment proportion in this sector is 74%, around three quarters.
The second area is construction. Although radiation risks are low on most building sites, there are potential hazards. They may be on or off site, monitoring the construction or decommissioning of a nuclear reactor. Typically, they will provide guidance and advice on procedure. Their primary role here is to devise systems to prevent accidents and reduce risk of radiation exposure. Around 9% work in this area.
Around 4% work in government. This covers a variety of roles from working on-site at nuclear power plants and other areas of high risk around a plant. They may also work for local and state government, monitoring and advising residents in geological areas with higher than average levels of radiation (granite).
<!- mfunc search_btn -> <!- /mfunc search_btn ->
What Is the Average Radiation Protection Technician Salary?
The median salary for radiation protection technicians, who fall under the broader BLS category of environmental science and protection technicians, was $46,850 as of May 2020. The highest 10% of earners earned about $80,530, while the lowest 10% earned about $29,280. The highest paying area, despite employing relatively few in number, was local government with a median of $51,510.*
Radiation Protection Technician Jobs & Job Description
Recent Radiation Protection Job Listings
Use the search box below to find all the radiation protection technician job listings in our job board.
A Radiation Protection Technician evaluates radiological sources and radiation containment, which requires many skills and various personality and technical attributes. Required of those in an entry-level capacity are the following skills:
Ensure compliance and possess knowledge of laws, regulations and policies on a federal, state, municipal and company level
Oversee work being done involving radioactive materials
Capacity to work in extreme environmental conditions, including uneven terrain and temperature extremes
Work conducted may be physically demanding and involve heavy lifting, kneeling, and working in high elevations
Utilize specialized instrumentation to analyze, track and survey radioactive materials, dose rates, airborne particulates and radiological controls
Ability and knowledge to wear personal protective equipment
Possess a high desire for radiological safety and preventing contamination risk
Establish safe means and testing for cycles of radioactive material, including collection, storage, packaging, transportation, and disposal
Educate and remain current on applicable policies, laws and regulations
Collect and analyze radiological samples
Compile information, results and data into databases and maintain thorough organization of records
The role of a senior level Radiation Protection Technician has a developed expertise in the area and includes many of the skills and requirements of a first-tier technician. Additional skills and requirements for a senior level position can include:
Possess an undergraduate degree in Radiation Protection, Health Physics or related field of study or possess significant years of experience related to Radiation Protection
Possess specialized certifications, such as the OSHA 40-Hour HAZWOPER training
Contribute to the development of future radiological contamination prevention
Manage schedules of other individuals and possess a keen sense of personal time management
Ability to take on and provide resolution for complicated problems and tasks
Develop permits for work areas and ensure that project workers are safe and monitored for radiation levels
Knowledgeable in radiological surveying equipment, detectors and instrumentation
Ability to regularly oversee the calibration or maintenance schedule for equipment, detectors and instrumentation
Provision or facilitation for signage, meetings and guidance for personnel to minimize exposure
What Is the Job Demand for Radiation Protection Technicians?
Job demand for radiation protection technicians is expected to rise some 11% in the decade between 2020 and 2030 - faster than the average for all occupations.* Much of this demand will depend on the country's nuclear power commitment and long-term government policy on renewable energy. Nuclear power remains a viable option for the next few years and the potential for accident remains, no matter how well designed the safety protocols.
What Are the Education Requirements to Become a Radiation Protection Technician?
No formal qualifications beyond a High School Diploma are required for this job role. However, should the candidate seek greater responsibility such as policy and decision-making, a degree is advantageous. On this assumption, the student should study physics for understanding the potential problems of radiation. He or she should also study English language for communication and report writing, and biology for grounding in environmental sciences.
A degree is not necessary, but for advanced roles such as government or business advisory, students should continue to study physics. Environmental science may be advantageous, as well any subjects centered on public health and safety. For those who wish to work in nuclear facilities, an Associates Degree will be vital. Students should seek those centered on nuclear protection where available. Otherwise, physics should be suitable. Geography and geology may be useful for other job types.
Regardless of qualifications, the candidate will require professional certification in the form of OSHA training. 40 hours is typical for this type of role.
Radiation Protection - Related Degrees
<!- mfunc search_box_body ->
<!- /mfunc search_box_body ->
What Kind Of Societies and Professional Organizations Do Radiation Protection Technician Have?
The global network of nuclear professionals has many representative groups. Amongst them are the following:
Nuclear Energy Institute: The NEI is the largest body of its kind in the US, representing all professionals who work in the nuclear energy field. They provide training and education and organize annual conferences
US Nuclear Regulatory Commission: This government body works with Federal government to set policy and safety standards to which Radiation Protection Technicians will adhere and promote
*2020 US Bureau of Labor Statistics salary figures and job growth projections for environmental science and protection technicians reflect national data not school-specific information. Conditions in your area may vary. Data accessed September 2021.
<!- mfunc search_btn -> <!- /mfunc search_btn ->