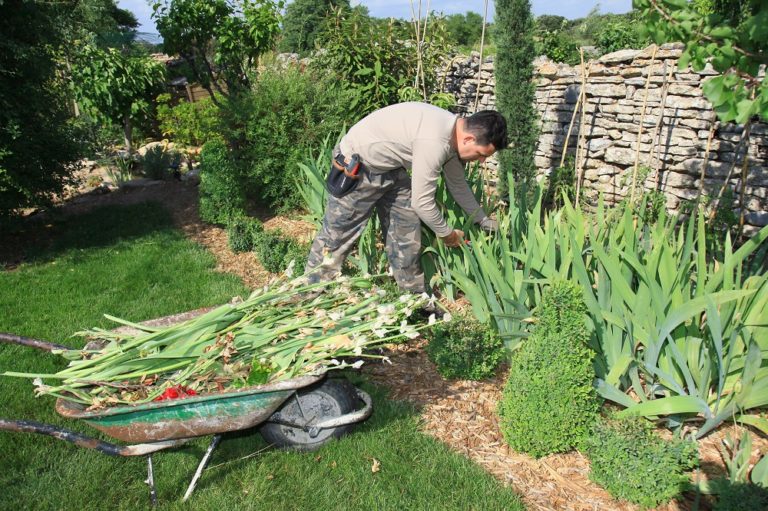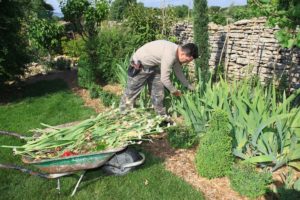 Landscapers work with green spaces such as parks and gardens, carrying out general maintenance and improvements.
What Does a Landscaper Do?
Landscapers work outside, performing a variety of tasks to and within landscapes. They can work rurally such as at state parks or other green spaces, or in our urban green areas - both public and private land. As their work is labor intensive, they need to be relatively fit and healthy. Their tasks include such varied roles as planting, weeding, installing water features, altering land gradient, improvements to drainage, laying new turf or paving, and other improvements and general maintenance. Their roles will be similar but not identical to foresters. They need to know how to use certain equipment, and to use it safely. They may be expected to use a chainsaw and other potentially dangerous equipment to chop down fallen trees and remove thick foliage. Leaf blowers, mattocks, trowels, shovels and spades are also common tools. Sometimes, they will work with landscape designers or landscape architects, carrying out the manual work on their instruction.
As they have flexible skills, they can work almost anywhere - at conservation sites as often as at historic homes, at state parks and providing door-to-door services in residential areas. Landscapers' work is often seasonal; those who are self-employed and work for residents will see more work during the warmer months than the colder periods, although there will be demand in the colder months too.
Where Does a Landscaper Work?
There are approximately 1.2m people with landscaper or similar as a job title, carrying out the tasks listed above. The majority work in buildings services - residential and commercial. Increasingly, our workplaces are becoming greener as businesses see the benefits of creating a pleasant work environment for employees. This means green spaces including gardens, water features and attractive plants. These features need to be maintained and so groundskeepers are employed to maintain them. A large majority will work as self-employed groundskeepers or for developers carrying out work in residential homes or in shared space on residential developments. This makes up over 40% of the employee numbers.
8% work for state government which includes state parks and other public spaces. This figure does not include education and hospital facilities. The third largest employment is tourism, leisure and recreation. Diverse examples of leisure include varied areas like boating lakes and amusement parks (Disneyworld). These facilities employ some 7% of the total. The next largest employer is educational services - schools and colleges often have green spaces and grounds that make for a pleasant environment.
<!- mfunc search_btn -> <!- /mfunc search_btn ->
What Is the Average Landscaper Salary?
Landscaping is a low paid vocational job. These professionals, who fall under the broader BLS category of grounds maintenance workers, earned a median salary of $32,220 as of May 2020. There is regional variation and different wages depending on the specialist skills.*
Landscaping Jobs & Job Description
Recent Landscaping Job Listings
Use the search box below to find all the landscaper job listings in our job board.
A Landscaper is responsible for creating curb appeal for homes and offices, and providing routine maintenance of the outdoor spaces at a variety of properties, such as golf courses, municipal properties, and retirement homes. The skills required for this position include:
Ability to work independently and as a positive member within a team
Capacity to take direction and report to a supervisor
Work at a variety of work sites and travel to various locations
Capability to use landscaping equipment required to perform tasks, such as chainsaws, leaf blowers, lawn mowers, and snow blowers
Exposure to extreme temperatures, weather conditions and environmental conditions, such as dust, grease and noise
Ability to handle chemicals and fertilizers properly and safely
Dexterity to work with hands and must be strong, as work can be physically demanding
Perform work physically outdoors; work can include pruning trees and shrubs, applying fertilizer, seasonal clean up and mowing grass
Implement enhancement projects to areas by adding mulch, a variety of plants, and lawn care
Operate all equipment safely and maintain a safe work environment
Ability to meet project deadlines and use time efficiently
Maintain and inspect equipment for use at job sites and notify supervisor if repairs are required
A Landscape Crew Leader or Manager incorporates a management role and utilizes many of the same skills required for a Landscaper. Skills required by Landscape Crew Leaders or Managers include:
Hold a diploma in landscaping or have extensive experience working in landscaping
Supervise a crew of Landscapers
Mentor landscaping crew and provide recommendations to work plans as work is completed
Oversee landscaping projects and ensure work is completed according to timelines and targets are met
Design landscaping plans for work sites
Develop budgets for landscaping designs
Possess excellent communication skills to present landscaping designs and budgets to clients and management
Ensure that work crews are following safety protocols and personal protective equipment is available and in good working condition
Possess knowledge of various landscape and hardscape techniques and concepts
What Is the Job Demand for Landscapers?
Job demand for this role is expected to grow at 8% between 2020 and 2030. This is about the average of all jobs across the country.* The reason it is expected to remain static is that green spaces - commercial, residential, public and government owned, will always need maintenance. The low paying nature of the role and the lack of required qualifications required means that anybody who is fit and healthy can do the job. People will always need others to mow their lawns, clear their driveways, keep public footpaths and other tracks free of undergrowth. Commercial spaces will always need their green spaces maintained. With municipalities planting more trees and setting aside more land for green space (for environmental as well as aesthetic reasons) the job may even grow.
What Are the Education Requirements to Become a Landscaper?
In most cases, no formal education is required. Key skills are learned in the process of carrying out the job. Therefore, in most cases, students will require a High School Diploma at the very most. Even then, this may not be required. Should the role include handling of fertilizers or other agricultural chemicals such as pesticides, you may need to seek safety certification in their use. Safety training for potentially dangerous equipment (such as hedge trimmers and chainsaws) will be taught on the job and safety certification acquired as part of it.
More lucrative, better paying and public facing roles may require some formal knowledge of horticulture, arboriculture, landscape design or ecology. Not always necessary, when apply for work at state parks, heritage areas or conservation areas, such qualifications will be advantageous if not preferable to the employer.
Those who demonstrate aptitude may find themselves subject to promotion and greater responsibility. Extra qualifications will not be required; merely the experience and understanding of the role will be sufficient.
Landscaping - Related Degrees
<!- /mfunc search_box_body ->
What Kind Of Societies and Professional Organizations Do Landscapers Have?
Landscapers are a large and important workforce with the following professional bodies.
Professional Grounds Management Society: Offering certification for professional grounds maintenance people, they aid education and development in this area of manual labor. It is not a trade association, but an individual representative organization
*2020 US Bureau of Labor Statistics salary figures and job growth projections for grounds maintenance workers reflect national data not school-specific information. Conditions in your area may vary. Data accessed September 2021.
<!- mfunc search_btn -> <!- /mfunc search_btn ->