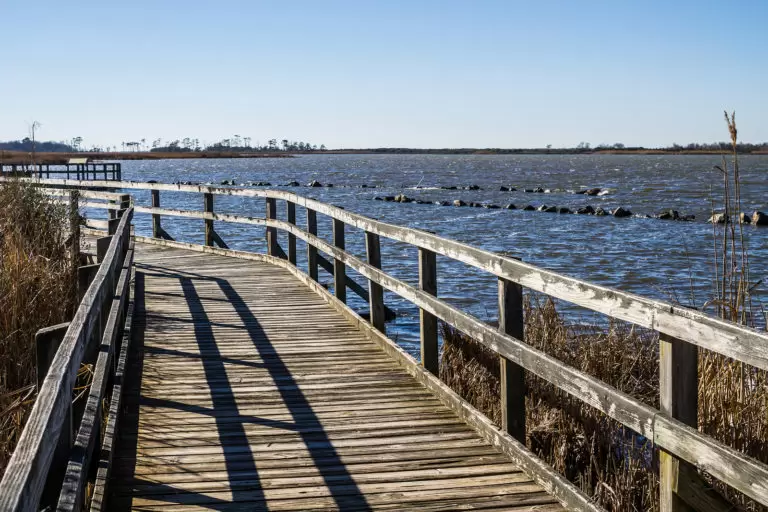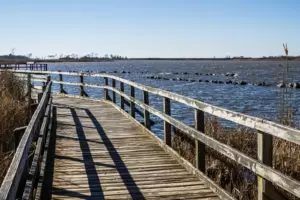 Wetlands designers are a type of environmental engineer that designs, creates and maintains natural and artificial wetland spaces.
What Does a Wetlands Designer Do?
A wetland is defined as an area of land where the soil is saturated with water. This can apply all the year round, throughout the day with the tides, or seasonally. Flocking bird species use these lands at certain times of the year, feeding and breeding before moving on. Some species live permanently in wetlands.
In these environmentally aware times, there are professional environmentalists, specialists and conservationists working to restore and preserve sensitive landscapes such as wetlands and also to create new ones. In some cases, the land agricultural engineers may have drained the land to create space for farming. This is now recognized as endangering to certain species. In other cases, there may be a desire to create wetlands for conservation purposes, for tourism (such as zoos, safari parks, artificial wildlife parks), or for academic research - sometimes a combination of all three. Zoos are a great example of mixing tourism with research and conservation.
Wetlands designers are a type of ecologist with a focus on the practical science of ecology. They may work in teams of engineers, alongside landscape designers, stratigraphers and environmental planners in designing and implementing landscapes. Swamps, wetlands, river floodplains and salt marshes are a haven for species either seasonally or permanently.
Where Does a Wetlands Designer Work?
Wetlands designers are a type of landscape architect. Therefore, statistics for this type of employee is likely to reflect the same data. According to 2015 statistics, 49% (that's just under half) worked for architectural services, engineering and related. Their training means they are landscape engineers at heart with a focus on ecology and environmental issues required to reconstruct natural environments or to create sustainable landscapes that mimic a natural landscape as much as possible to encourage wildlife and general ecology.
15% (or just less than one sixth) work in landscape services - typically conservation and ecological workers. They are less about engineering than they are about conservation and mitigation of human actions. They work to create, maintain and promote lands that already exist. They may be involved in cleanup operations, risk identification and manual labor such as scrub clearance.
20% (one fifth) are self-employed, working as consultants, advisors and contractors to the other industries already highlighted here. However, they will also work independently - taking on small parts of individual contracts such as construction for developments and extensions of existing land. These people will often be generalists.
<!- mfunc search_btn -> <!- /mfunc search_btn ->
What Is the Average Wetlands Designer Salary?
According to the BLS, wetlands designers, who fall under the broader BLS category of landscape architects, earned a median salary of $70,630 as of May 2020. The lowest 10% of earners recorded salaries of around $42,500, while the highest 10% of earners earned more than $115,660. Salary also varies by region with New York recording one of the highest salaries.*
Wetlands Design Jobs & Job Description
Recent Wetlands Design Job Listings
Use the search box below to find all the wetlands designer job listings in our job board.
Wetlands designers share many job duties with biologists, urban planners and water engineers for a complex role in creating new wetlands that improve water quality. A wetland designer may perform the following job duties:
Provide technical direction or supervision to junior engineers or computer-aided design technicians
Conduct feasibility studies for the construction of new engineered wetlands
Design pumping systems, pumping stations, pipelines, force mains, or sewers for the collection and distribution of water
Analyze storm water or floodplain drainage systems to control erosion, stabilize river banks, repair channel streams or design bridges
Design water distribution systems for potable and non-potable water
Perform wetland assessments and delineations with strict adherence to federal and state environmental regulations
Gather environmental data and prepare technical reports
Assist with presenting results from field investigations to project managers
What Is the Job Demand for Wetlands Designers?
Job demand for landscape architects in general is expected to show little to no change between 2020 and 2030.* Employment in conservation and ecology has always been slow, but landscape design progresses slowly. Students may find great competition for a small number of roles, even with all relevant qualifications. Expect greater demand in regions where there is more available wetland.
What Are the Education Requirements to Become a Wetlands Designer?
Students wishing to enter into this career need a bachelor's degree. High school students should focus on environmental science based subjects. Geography will be essential, as will biology and chemistry. Anything environmental where available will be useful. These science subjects form the basis of your scientific training to take you into a career so should receive a great deal of attention.
There are a number of relevant degree courses for students wishing to enter into this career. The first is ecology, and most colleges and universities have ecological degrees or equivalent today. Horticulture will be a great choice, as will landscape design or environmental geoscience, environmental architecture and sustainability. Increasingly, you will find new landscape design type degrees such as environmental planning and design. Where available, prioritize studying these subjects. Graduates will spend a great deal of time in offices working with technology. Therefore, students should take minors and electives in subjects such as GIS and CAD, ecology, geography (where this is not a major).
For some roles, a master's degree will be essential too, although as this is practical work, the student will find fieldwork essential to their early career development. Master's degrees are useful for students wishing to manage projects, wish to spend more time on research, and those seeking decision-making roles. Students may specialize should they choose a masters, and we recommend GIS or CAD just as much as environmental planning and desing. Similarly, doctorate programs are suitable for students seeking local government decision-making roles, some Federal employees (NPS, NASA, EPA) and corporate decision making. Students who wish to teach and engage in academic research should study a PhD.
Wetland Design - Related Degrees
<!- /mfunc search_box_body ->
What Kind Of Societies and Professional Organizations Do Wetlands Designers Have?
Wetlands designers are qualified landscape architects; the following organizations represent these professionals.
Constructed Wetland Association: This UK based organization is a global body promoting standards and researching new technologies to aid constructed wetlands that aids ecology, improves water run off and mitigates wastewater treatment
Society for Ecological Restoration: Including researchers and field workers, SER works towards repairing and restoring damaged ecosystems - which includes but is not limited to wetlands
Wetlands International: A non-profit members body, their mission is to promote and enhance the global wetlands covering science, conservation and communities
*2020 US Bureau of Labor Statistics salary figures and job growth projections for landscape architects reflect national data not school-specific information. Conditions in your area may vary. Data accessed September 2021.
<!- mfunc search_btn -> <!- /mfunc search_btn ->