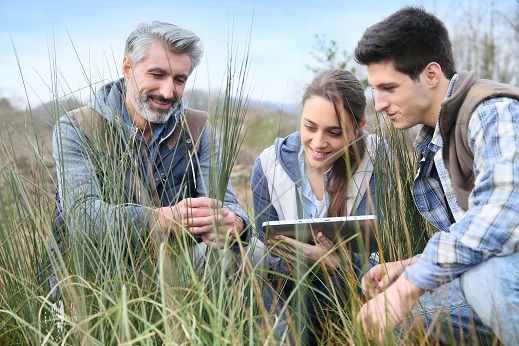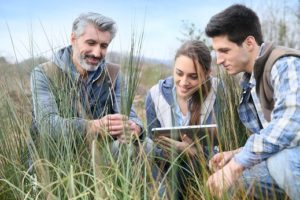 Aquatic Ecology is a sub-discipline of ecology - the science of the environmental balance between forms of the life, the geography, the geology and soil type. Aquatic Ecologists examine fresh water areas such as marsh wetlands (salt flats and fresh water flood plains), lakes and rivers.
What Does an Aquatic Ecologist Do?
Aquatic Ecologists research and work with areas of water and their associated dry land that depend on the working relationship between them. This will include the various forms of plant and animal life from the microscopic to the largest. These species work in an interdependent relationship. If one element has a sudden population increase or decrease, it will have a knock on effect for the wider local ecology. They can further specialize in animal species or study the microbes that contribute to the environment. The job role differs from ecology in that they are concerned with aquatic (fresh water) ecologies rather than the ecology in general. Their work can include studying the impact of invasive species or habitat loss, the result of pollution into water bodies and their impact on the life forms. They will also have a good understanding of geology and soil analysis.
Where Does an Aquatic Ecologist Work?
As with Aquatic Biology, most with qualifications in this discipline will work for government organizations. Typically, they will work for State Parks or National Parks in conservation roles, for Federal organizations like EPA or as researchers or policy-making and advisory. Many go on to become teachers in geography or emerging areas of environmental science in our High Schools; many more will get advanced degrees and teach at Colleges and Universities. Similarly, they may work as advisors or in public education in pubic roles such as zoos, wetland visitor centers or animal parks. Their expertise is vital in public engagement.
The greatest need is in environmental protection. Once considered areas ripe for drainage to turn over to agricultural use, today international law protects our vital wetlands. This country like many others must adhere to global laws on environmental regulation, protection and conservation as part of our global commitment to environmental issues.
<!- mfunc search_btn -> <!- /mfunc search_btn ->
What Is the Average Aquatic Ecologist's Salary?
As of May 2020, aquatic ecologists, who fall under the broader BLS category of environmental scientists and specialists, earned a median salary of $73,230. Federal agencies and other national government jobs had the highest median average pay, at $103,180. *
Aquatic Ecology Jobs & Job Description
Recent Aquatic Ecology Job Listings
Use the search box below to find all the aquatic ecologist job listings in our job board.
Aquatic ecologists study the interrelationships between flora, fauna, and environment in lakes, streams, ponds, oceans and other bodies of water. Given the vast amount of underwater environments found across the globe, most aquatic ecologists can expect to encounter the following tasks as part of their job:
Stay abreast of research and current developments in the particular subfield of interest
Provide knowledge and feedback on aquatic ecosystem interrelationships
Collect field data on plant life, organisms and water quality in the field
Examine human impact on the aquatic ecosystem in question
Plan sustainable resource management practices
Teach and implement sustainable practices for aquatic environments
Study aquatic and terrestrial ecosystems, fish and wildlife habitat, population assessment
Study how humans impact the aquatic ecosystem and vice versa
Use biological modelling tools and software, create hypotheses and scenarios to model, and extrapolate results to real world aquatic environment - draw parallels between disparate environments where possible
Design fish and plant surveys
Draw samples for organisms, water quality and substrate quality and composition
Explain technical information in plain language to stakeholders
Draft scientific and technical reports
Implement aquatic harvest regulation systems and surveys
Proficiently use software applications including statistical, spatial, population and habitat modelling, databases, neural net/algorithms and geographic information systems
Senior aquatic ecologists are often promoted because of their past experiences and depth of knowledge and management skill. In a senior role, aquatic ecologists will perform the following duties:
Assess and offer feedback on scientific and technical reports
Manage projects and delegate tasks to plan and lead scientific projects and subprojects
Contribute to ecological assessments, ecological monitoring and survey programs, and environmental permitting
Liaise with local, regional and national ecological and regulatory agencies
Manage project budgets, benchmarks, procedures and reporting
Write proposals for grant and fundraising purposes
Manage existing and new projects such as surveys, aquatic components of environmental assessments, aquatic monitoring programs, data management, statistical analysis and interpretation
Demonstrate leadership; coordinate staff across operating unit
Prepare regulatory applications and approvals
Manage and communicate with clients, develop new projects and business leads
Interpret and apply relevant legislation, regulations, policies, procedures and guidelines.
Mentor staff
Support field work and workgroups in a technical, interpersonal, and administrative capacity
Use technical theories, practices, and regulatory policies to resolve projects in line with goals and benchmarks
Make observations, collect samples, perform routine tests, and maintain documentation.
Conduct 'Species at Risk' habitat assessments and species-specific surveys when required
What Is the Job Demand for Aquatic Ecology?
Employment demand is expected to be lower for the next ten years than most other sectors. Outlook for the period 2014-2024 is just 4%. It is a niche area with some low demand by state, but it is a transferable skill globally. Experts in this field may find more opportunities to work around the world than other comparable qualifications in ecology and environment.
Employment demand is expected to grow by 8% between 2020 and 2030. *
What Are the Education Requirements to Become an Aquatic Ecologist?
There are no degrees Aquatic Ecology in the US at present; this is a niche area requiring approach from one of several different angles. Prospective Aquatic Ecologists should take a BS or BA in Ecology to get a strong enough foundation. Further, they should expect to enter post-graduate study to head towards a career in this direction. Environmental Biology, Microbiology or Zoology are other options for approaching this career should the student wish to focus later on a key area.
As with other disciplines, a BA degree is suitable for practical work; students who wish to enter into fieldwork should study this type of degree. If desk based research and lab testing is your preference, then a BS degree will be more suitable. A BS or BA will be suitable for the majority of jobs in this field, but should you seek long-term career development and project work, you should study a master's degree. For academic lecturing and research, a Doctorate is vital.
Aquatic Ecology - Related Degrees
<!- /mfunc search_box_body ->
What Kind of Societies and Professional Organizations Do Aquatic Ecologists Have?
Aquatic Ecology is a growing area related to both Ecology and Aquatic Biology. There are several prestigious groups related to this field.
NSAEC: The National Stream and Aquatic Ecology Center is part of the USDA Forest Service. Their remit is developing tools and methods for promotion and conservation of these vital water-based ecologies.
British Ecological Society: Although dedicated to wider ecology, their understanding of the need for a dedicated aquatic ecology team has led to the setting up of this special interest group. Their aim is to promote research and bring together people inside and outside the discipline
*2020 US Bureau of Labor Statistics salary figures and job growth projections for environmental scientists and specialists reflect national data not school-specific information. Conditions in your area may vary. Data accessed September 2021.
<!- mfunc search_btn -> <!- /mfunc search_btn ->