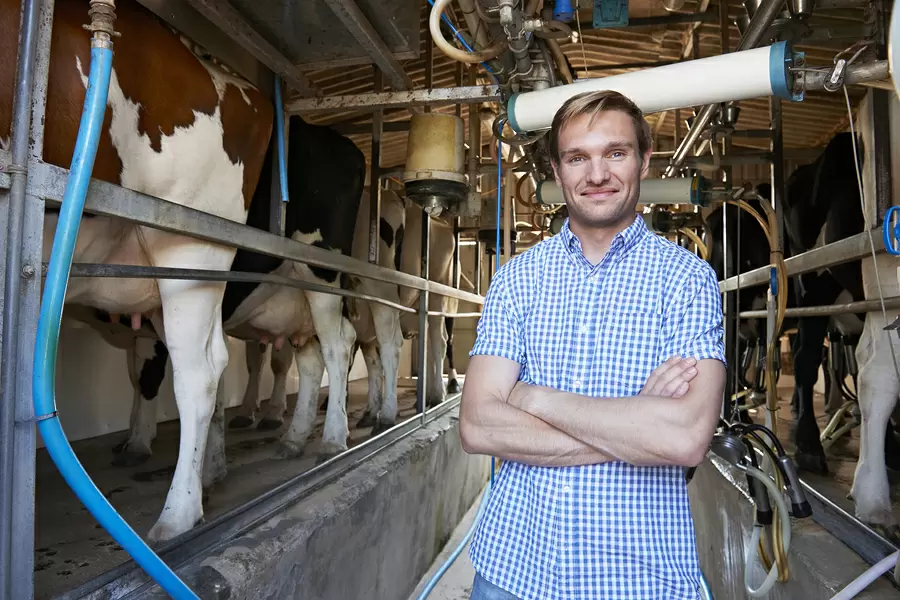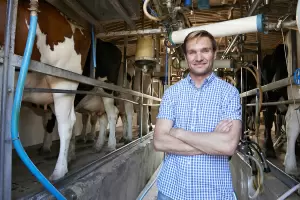 Agricultural Managers supervise and implement various activities on farms, nurseries, greenhouses, and other agricultural production sites. This position is incredibly important for the maintenance of the nation's food supply. Many are self-employed and take part in different aspects of agricultural management. Others working on larger industrial farms may lead a team of other workers or have more specialized tasks. Though there are no education requirements, bachelor's degrees in agricultural sciences or other botany-related fields are becoming an industry standard for those who are not self-employed. However, work experience on farms is still the most popular form of preparation for Agricultural Management positions.
What Does an Agricultural Manager Do?
Agricultural Managers plan and coordinate the operation of farms, nurseries, greenhouses, and other agricultural production sites. In larger work settings they may also hire and train farmers to care for the crops under their supervision.
Agricultural Managers oversee all aspects of running farms and other facilities that produce crops. Some of their duties include planning, supervising, and sometimes participating in the planting, fertilization, and harvesting process. They may be in charge of hiring, training, and managing farm workers, ensuring that they are properly prepared for their important positions. They are also involved in selecting the proper equipment and supplies needed to properly support the farm. Depending on the size of the facility, an Agricultural Manager may also be required to keep the books and market the yield for that year.
Where Does an Agricultural Manager Work?
Agricultural Managers spend a great deal of time working in a farming environment, meaning that the majority of the workday takes place outdoors. They are exposed to potentially harsh weather conditions on a regular basis and often perform physically strenuous work. However, some of their time may be spent indoors planning for the following season, marketing their crops, or maintaining the equipment needed to run the farm efficiently.
Most Agricultural Managers work full-time with great potential for overtime. During the spring and fall - the busiest times of year - they may work from sunrise to sunset.
What Is the Average Agricultural Manager's Salary?
Agricultural Managers make an average of $69,300 a year. The lowest 10% make around $31,700, while the highest 10% earned around $124,160. Income may fluctuate depending on the farm's output that particular year, as well as the receipt of government subsidies and other benefits. Most Agricultural Managers own and operate their own businesses, but others work for larger corporations or small-scale companies.

| State | Total Employment | Bottom 25% | Median Salary | Top 75% |
| --- | --- | --- | --- | --- |
| Arizona | 120 | $40,910 | $46,810 | $82,980 |
| Arkansas | 110 | $46,310 | $67,880 | $78,270 |
| California | 780 | $69,760 | $88,950 | $117,620 |
| Florida | 230 | $61,130 | $71,870 | $87,300 |
| Idaho | 110 | $45,640 | $55,260 | $77,790 |
| Illinois | 230 | $43,960 | $64,810 | $79,400 |
| Indiana | 80 | $50,970 | $67,830 | $80,980 |
| Iowa | 260 | $49,900 | $58,540 | $81,220 |
| Kentucky | 100 | $46,680 | $59,190 | $82,460 |
| Michigan | 50 | $55,680 | $71,190 | $95,440 |
| Mississippi | 30 | $40,160 | $44,070 | $47,450 |
| Missouri | - | $29,100 | $48,080 | $81,540 |
| Nebraska | 100 | $28,040 | $54,800 | $78,350 |
| New Mexico | 60 | $43,440 | $51,120 | $58,320 |
| New York | 40 | $70,630 | $81,510 | $94,980 |
| North Dakota | - | $64,800 | $69,730 | $74,660 |
| Ohio | 70 | $47,330 | $57,850 | $73,370 |
| Oklahoma | 50 | $27,670 | $30,540 | $75,980 |
| Oregon | 150 | $42,650 | $69,480 | $88,020 |
| Pennsylvania | - | $80,590 | $86,500 | $92,410 |
| Tennessee | 40 | $25,710 | $33,480 | $44,440 |
| Texas | 240 | $28,560 | $61,850 | $96,890 |
| Washington | 130 | $62,010 | $71,020 | $87,900 |
| Wisconsin | 40 | $52,020 | $77,570 | $104,800 |
Table data taken from BLS (http://www.bls.gov/oes/current/oes119013.htm)
Agricultural Management Jobs
Recent Agricultural Management Job Listings
Use the search box below to find all the agricultural manager job listings in our job board.
Agricultural manager careers focus on strategic sourcing and procurement, risk management, supplier relationship, and supplier integration as key elements of the job. While jobs do vary, most agricultural managers are comfortable with performing the following duties within the scope of their profession:
Become subject matter expert on agriculture industry and markets for North America
Use strategic sourcing to develop and drive strategies and processes
Develop and lead strategic sourcing activities, including internal and external analysis and negotiations
Keep track of projections based on changing market environment
Develop and promote robust supplier diversity
Prepare monthly commodity projections
Track total cost of ownership and variations to budget
Knowledge of procurement and supply chain as they relate to agricultural industry
General knowledge of production, markets, and supply chain processes of agricultural commodities
Lead ongoing joint business activities
Direct performance on KPIs, and productivity initiatives and innovation.
Manage and coordinate all phases of agricultural production from planting to harvest
Maximize premium yield in the most cost effective manner
Be willing to approach agriculture holistically but with a business mindset
Have a broad scope of knowledge that includes crop and soil science, meteorology, crop physiology, and related fields like predictive modeling
Communicate findings to colleagues, farmers, and the public
Senior agricultural manager jobs often have an even broader scope of which may include management of all farm assets as well as operations and personnel. Such responsibilities may include:
Enforce government regulations
Write grant and business proposals for funding purposes
Lead/coordinate cross-functional efforts to support activities regarding ingredients quality, product innovation, and corporate social responsibilities (CSR)
Lead cross functional groups to develop productivity programs that deliver enabler and Total Procurement Value (TPV) targets
Develop and articulate monthly commodity strategy for the CPO and procurement leadership and other reports as needed
Develop category specific information on spend, supplier performance, compliance, standards and specifications and industry benchmarks
Manage all personnel including payroll, hiring, terminating, layoffs, scheduling, training, and providing the necessary equipment to fulfill job responsibilities.
Oversee all aspects of production, including but not limited to fertilizing, pruning, irrigation, spraying, ground maintenance, harvest, packing, storage, and logistics
Develop and manage annual budget
Use consultants to research and implement new agricultural/horticultural technologies
Implement growing and quality standards
Implement and manage human and food safety policies and practices for all employees and third parties
Review current research in the filed in order to develop horticultural and technical knowledge
Engage in technical report preparation
Foster a positive and safe work environment with mentorship opportunities
Navigate regional, federal and international regulations, and best practices
Liaise with farm stakeholders and partners
Consult with farmers, engineers, fellow scientists, and government agencies regarding best practices
What Is the Job Demand for Agricultural Managers?
The job demand for Agricultural Managers is expected to decrease by 19% in the next ten years. This decline can be credited to the industrialization of farming, which requires significantly less managers and workers to produce larger yields. The prices for farming supplies have also increased sharply in the last few years, making private farms much more difficult to own and operate. However, the government and various nonprofits provide many options for privately owned agricultural facilities. Many farms are also able to find niche markets that prefer small-business, farm-to-table style food. Though the numbers project decline, there is still hope for the Agricultural Management career track.
What Are the Education Requirements to Become an Agricultural Manager?
Agricultural Managers typically have no required education level, though many have at least a high school diploma. Most Agricultural Managers gain their training through work experience, finding apprenticeships at local farms, or inheriting a family farm. However, it's important to note that a bachelor's degree is slowly emerging as an important asset in the industry. Attending a land-grant college or university and earning a degree in agriculture, farm management, agronomy, or botany can provide essential information about crops, ideal weather conditions, and various diseases that can inflict plants.
Some Agricultural Managers choose to get certified by The American Society of Farm Managers and Appraisers (ASSFMR), which requires at least 4 years of work experience and a bachelor's degree.

Agricultural Management Related Degrees
<!- /mfunc search_box_body ->
What Kind of Societies and Professional Organizations Do Agricultural Managers Have?
Agricultural Managers and those who wish to become Agricultural Managers can look to the following government sites for guidance:
National Institute of Food and Agriculture (NIFA)
A government program run by the United States Department of Agriculture that is intended to provide more information about becoming a farmer. They also offer several grants and development programs that can help keep small farms in business.
Agricultural Managers can also browse through these organizations and websites for valuable resources:
The American Society of Farm Managers and Appraisers (ASSFMR)
A professional organization that provides industry-specific information and certifications for farmers and other land managers. They also encourage leadership in the agricultural field by offering further education. ASSFMR even list agricultural lands that are currently up for sale.
Center for Rural Affairs (CFRA)
A non-profit organization centered around conserving farmlands and supporting small rural communities throughout the United States. They work for public policies that favor rural Americans, rural community development, and more sustainable agricultural practices.
Other Recommend Resources