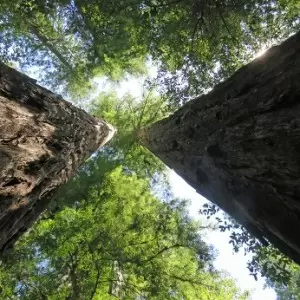 I'm standing on a bridge in the Garcia River Conservation-Based Forest Management Project, a 24,000 acre tract, whose native redwoods have been almost entirely taken out for timber. Speaking to my group is Scott Kelly, Timberlands Manager with the Conservation Fund, who manages the forest. (The Nature Conservancy holds a conservation easement on the property.) Kelly is explaining why the fund spent $400,000 replacing the bridge as part of their forest restoration efforts. Sediment had shallowed the creek below, which, when combined with the drought was wreaking havoc with its population of Steelhead trout, and Coho salmon, which are endangered in this area. Kelly and his team have been investing and working on the roads and bridges to dramatically reduce runoff. So far, these efforts have kept of total of 12,000 dump trucks worth of sediment out of the waterways, which has been critical in maintaining the health of this forest.
The creek, some thirty feet below, is shallow enough to wade in. Not too long ago, the water was nearly up to the bridge. It's been dry here, which doesn't help. Kelly said that if the creek gets too shallow, all the fish will be crowded into pools and the birds will feast on them until they are gone. Alterra Hetzel, the Conservation Fund's Forest Business Development Manager tells the group about some new salmon preservation techniques being tested that involve placing cut logs and branches in the stream to create the types of pools that the salmon like to breed in. They also help to maintain the proper temperature.
<!- mfunc search_box_body ->
<!- /mfunc search_box_body -> Forests like these may well be our best weapon against
climate change
. The absorb carbon and protect biodiversity. That is why representatives of Volkswagen and renewable energy and carbon offsets provider
3Degrees
are also here today. We have all driven up from San Francisco in a caravan of high-efficiency Volkswagens. VW is supporting these forest-restoration efforts through carbon offsets that they are purchasing from 3Degrees. Other companies such as UPS are also supporting this effort through their
carbon neutral
shipping program. The money goes towards the funding of forest management activities.
For VW, this is part of their rollout of a sweeping program that they describe as their holistic approach to ultra-low carbon mobility. That includes not only the launch of their 2015 all-electric eGolf, which gets the equivalent of 116 mpg, but also a number of other initiatives across their supply chain and in their factories. The purchased offsets were calculated to equate to the first 36,000 miles of driving for each eGolf they sell. The company has committed to reducing the CO2 emissions of their entire fleet by 90% by 2050, well ahead of the ambitious targets that have been set by the EPA.
<!- mfunc search_btn -> <!- /mfunc search_btn ->
Farther down the road, Kelly describes the rationale behind the selective culling of trees, which is gently guiding it back towards the composition of earlier days, when redwoods were the primary species. After the redwoods were cut down, smaller species, such as tanoak (a type of beech), have moved in, part of a natural precession. This forest is being managed, and to some degree commercialized, one of several surprising aspects of this unusual, and one might say, cutting-edge, partnership between, these three entities. In time intervention harvesting will give way to single tree selection. Says Kelly, "This is one of the things we're doing to enhance our forest productivity over the long term."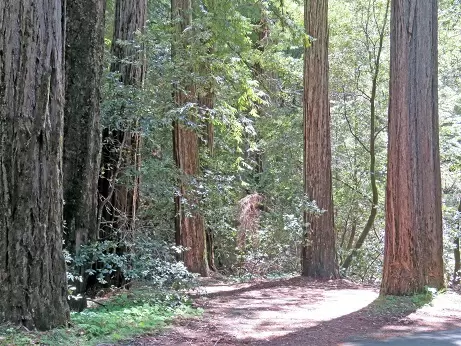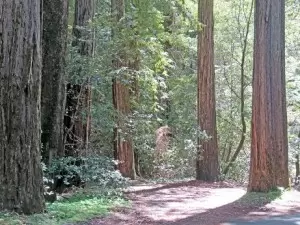 Using a stick in the dirt, Kelly explains how a modeling program called Foresee projects the future growth and yield of the forest, which is used both for planning and as part of the calculation of carbon credits. The credits are based on the difference between the amount of timber that would have been harvested under commercial forestry practices and what is actually harvested under the conservation management plan. A PhD student from the University of Montana drives the model. Some years down the road, when these trees get bigger, some of them will be harvested. But not those that were sold for carbon credit. Those are committed to remain standing for 100 years.
The underlying point is that in today's world, the best way to protect the environment from the impacts of economic activity is not always to separate the two. After all, it's all part of the Earth's ecosystem. If we can learn to harvest and utilize natural resources in a sustainable manner, it can be a win-win. And if people can come to recognize that their economic interests will best be served in the long run by protecting the natural environment that provides countless services that are taken for granted, all of us will be better off.
This is one of the operating principles behind the Conservation Fund. If the management of natural lands can provide some level of economic benefit to the surrounding communities, they will be more likely to be protective of those lands. The Garcia River project and two others in Northern California, comprising a total of 73,000 acres, provide for approximately 60 full time jobs. Some of these forests practice sustainable silviculture, harvesting timber in a sustainable manner, while others, like Garcia River, primarily support themselves through the sale of carbon offsets at this point in time.
Latest posts by environmentalscience
(see all)
Featured Article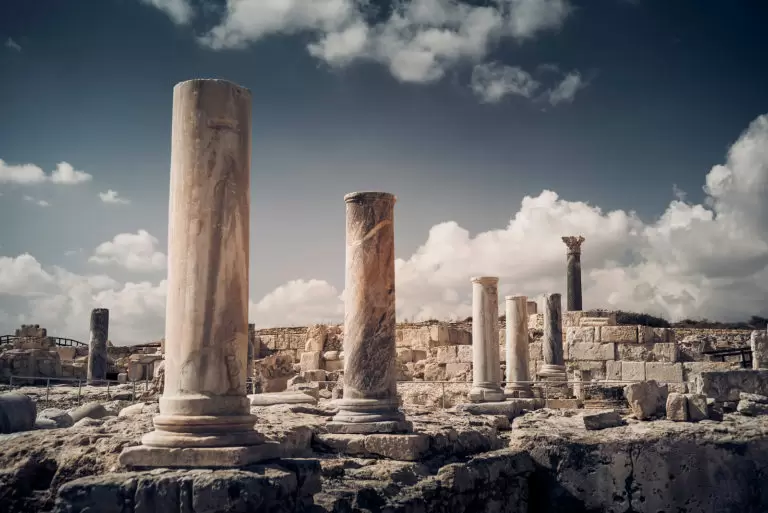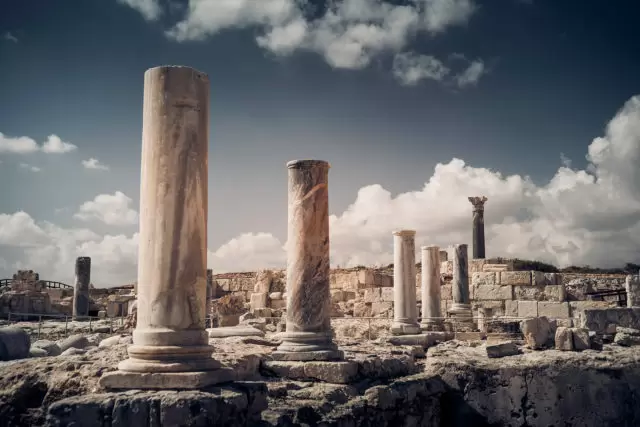 Archaeology: Examining Its Past and the Future
What is Archaeology? Simply, archaeology is the study of people in the past, their activities and actions, cultural practices, tools and technological development, and in some cases (where possible) their superstitious and religious practices, expression of their cultural identity and...