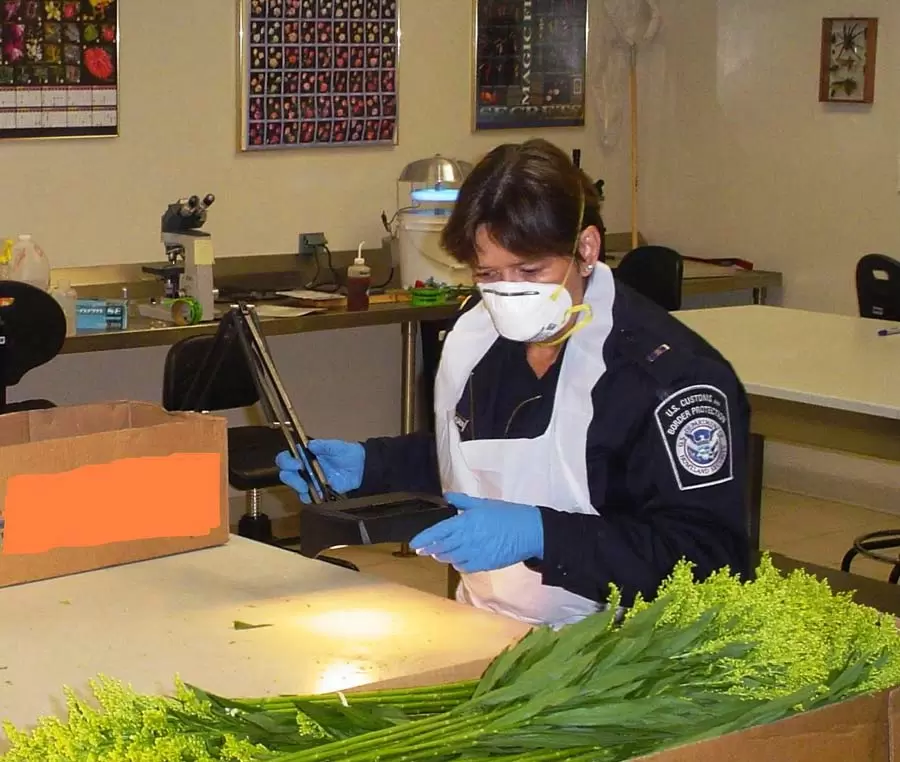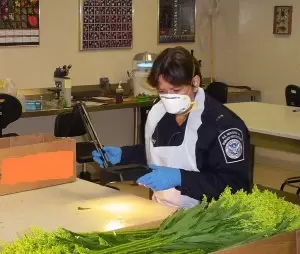 An Agricultural Specialist is a specific kind of Customers and Border Protection (CBP) official that is in charge of knowing and enforcing rules and regulations about transferring various agricultural items across borders.
What Does an Agricultural Specialist Do?
Agricultural Specialists are specially trained CBP officers that can expertly identify and discover potential violations of U.S. import policies, particularly in reference to agriculture. They often find hidden threats nestled in luggage, incoming shipments, and containers brimming with agricultural imports. A major threat that they detect, assess, and intercept on a regular basis are pests that could potentially compromise the integrity of American crops. The exact nature of the work performed largely depends on which location or checkpoint that an Agricultural Specialists works for.
Where Does an Agricultural Specialist Work?
Most Agricultural Specialists work for the Federal Government at U.S. Border Protection posts, airports, seaports, or other stations that deal with imports. This means that they spend most of their time working outdoors in potentially harsh environments or adverse weather conditions. However, Agricultural Specialists also spend some of their time in an office environment, usually filling out official paperwork or acquainting themselves with local, state, or federal regulations. These workplaces may also be located along the border or at other random checkpoints, requiring a long commute for some.
Many Agricultural Specialists work a full-time schedule and may be required to work overtime, as border protection must be provided at all hours and dates.
<!- mfunc search_btn -> <!- /mfunc search_btn ->
What Is the Average Agricultural Specialist Salary?
Agricultural Specialists, who fall under the broader BLS category of agricultural and food scientists, earned a median salary of $68,830 as of May 2020.*
Agricultural Specialist Jobs
Recent Agricultural Specialist Job Listings
Use the search box below to find all the agricultural specialist job listings in our job board.
Agriculture specialists' careers focus on consulting to provide advice to farmers and livestock producers. The field of agriculture is very broad so often, these individuals specialize in a specific area like animal science, economics, mechanics, soil science, or field crops, which means that the specialist role is different for everyone. However, agriculture specialists will be comfortable performing most of the following tasks as part of their job:
Optimize field practices
Crop modeling, soil mapping and weather modeling
Be willing to approach agriculture holistically
Be familiar with solutions like biotechnology, to advanced predictive and prescriptive analytics
Design and implement field experiments
Collect soil chemical and physical properties,
Work collaboratively with other engineers and technicians on providing food science recommendations
Collaborate with in-house personnel on many projects
Work independently for methodological portions of the role
Have a broad scope of knowledge that includes crop and soil science, meteorology, crop physiology, and related fields like predictive modeling
Be able to perform GxE analyses, and other environmental modeling
Be able to map soil, engage in yield modeling, and plant breeding.
Have experience in computational statistics, data mining, model building
Conduct research and experiments to improve the quantity and quality of field crops and farm animals
Innovate new food products
Develop new and better ways to process, package, and deliver food products
Prepare and conduct advisory sessions for farmers, policy makers and other stakeholders
Analyze agricultural data and report on findings
Communicate with researchers, educators, government departments, and business managers
Maintain records of yields and services
Educate farmers and agricultural business owners on regulatory issues
Request funds for agricultural development from research
Making presentations to farmers, livestock producers, and agriculture businesses
Respond to requests from clients
Analyze soil composition as it relates to plant growth
Communicate findings to colleagues, farmers, and the public
Explore animal genetics, nutrition, reproduction, diseases, growth, and development
Advise farmers on how to lower animal death rates, handle waste matter, and increase production
Senior agricultural specialist jobs often entail a management component, which may include administration, operations and personnel. Such responsibilities may include:
Enforce government regulations through inspections
Write grant and business proposals for funding purposes
Oversee the preservation of site integrity - especially critical in the field
Engage in technical report preparation and submittal
Foster a positive and safe work environment with mentorship opportunities
Consult regarding project scope, schedules, and budgets
Navigate regional, federal and international regulations, and best practices
Oversee testing and calibrating of designs, equipment and instruments
Oversee measurement taking and data recording
Liaise with site and farm stakeholders
Consult with farmers, engineers, fellow scientists, and government agencies regarding best practices
Supervise fieldwork and lab work
What Is the Job Demand for Agricultural Specialists?
The number of open positions for Agricultural Specialists is projected to grow 9% in the next 10 years (2020-2030).* There will always be new positions that need to be filled, but there are no upcoming events that promise a spike in growth for this career. However, this projection largely depends on government budgets in the coming years, which can be difficult to predict accurately.
<!- mfunc search_btn -> <!- /mfunc search_btn ->
What Are the Education Requirements to Become an Agricultural Specialist?
Agricultural Specialists are required to have a Bachelor's degree or higher. Majors in botany, entomology, plant pathology, agricultural sciences, natural resource management, or related is preferred. Preference is also given to those with work experience in pest control, cargo inspection, pesticides, or farm management.
However, advancement in the field may involve other educational requirements. Graduate education, exceptional academic performance, and other related work experience could help gain higher pay grades.

Related Degree Options for Agricultural Specialists
<!- /mfunc search_box_body ->
What Kind of Societies and Professional Organizations Do Agricultural Specialists Have?
Agricultural Specialists and those who wish to become Agricultural Specialists can look to the following government websites for guidance:
U.S. Customers and Border Patrol (CBP)
This federal government entity governs U.S. borders by combining law enforcement efforts with immigration policy awareness and agricultural protection programs. It is the top employer of Agricultural Specialists and can provide a seemingly endless number of resources on the laws and regulations that govern agricultural imports.
*2020 US Bureau of Labor Statistics salary figures and job growth projections for agricultural and food scientists reflect national data not school-specific information. Conditions in your area may vary. Data accessed September 2021.