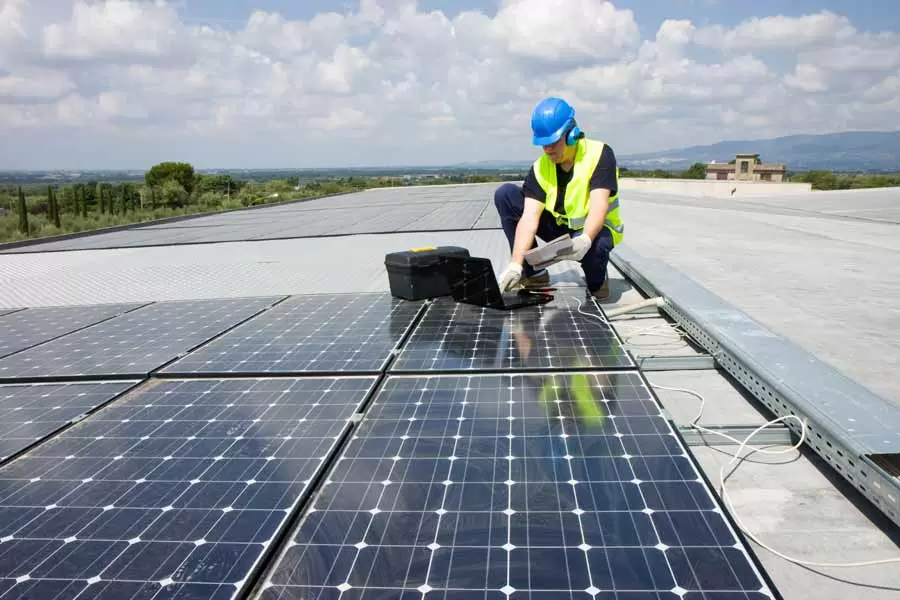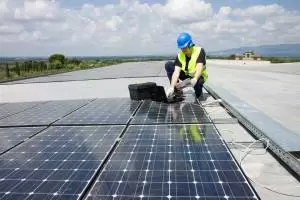 Solar engineers create solar cells that collect and store the sun's rays. They work with clients to design, plan and implement solar energy projects for cities, businesses, and homeowners.
What Do Solar Engineers Do?
Solar engineers plan, design, and implement solar energy projects. They may manage anything from large-scale municipal projects to home rooftop installations. The engineer typically begins with a client consultation, site assessment, and financial assessment, which help him or her understand the project's context. The engineer then designs an appropriate plan that takes all relevant factors into account. He or she may also oversee or manage implementation of the plan. Solar engineers may also need to report on the efficiency, cost, and safety of the project. The engineer may also be on call to deal with outages, emergencies, and system maintenance.
Solar engineers may also conduct financial reviews, ensure regulatory compliance, inspect installation sites, and write technical reports. Computer skills are essential for creating designs and testing photovoltaic systems.
Where Does a Solar Engineer Work?
Most solar engineers work in offices, but may also travel frequently to different work sites, including overseas locations. They often must climb ladders onto rooftops to inspect installations, and may need to carry heavy loads for short distances.
According to the Solar Foundation, California is by far the leading state for solar jobs in general, with over 10,000 solar jobs as of 2013. New Mexico offers the second highest number of solar jobs. New York, New Jersey, and Massachusetts are also home to relatively high numbers of jobs in the solar industry.
<!- mfunc search_btn -> <!- /mfunc search_btn ->
What Is a Typical Solar Engineer's Salary?
According to the BLS, solar engineers, who fall under the broader BLS category of electrical and electronics engineers, earned a median salary of $103,390 as of May 2020. The bottom 10% in the field earned about $64,870, while the top 10% earned more than $159,520 during this time.*
What Is the Job Demand for Solar Engineers?
The job demand for electrical and electronics engineers is projected to increase by 7 percent between 2020 and 2030. However, the BLS predicts that job growth for solar installers will grow a truly amazing 52 percent between 2020 and 2030, so job growth for solar engineers will likely reflect this growth.*
Getting a Solar Engineering Degree
A bachelor's degree in mechanical engineering or electrical engineering is typically required for solar engineering positions. In some areas, more advanced certification could be required. Degrees in industrial engineering, chemical engineering, and computer software engineering may also be helpful.
Many jobs require Professional Engineer (PE) or Engineer in Training (EIT) licensure. Licensure generally requires:
A degree from an ABET-accredited engineering program
A passing score on the Fundamentals of Engineering (FE) exam
Relevant work experience, typically at least 4 years
A passing score on the Professional Engineering (PE) exam
College graduates may take the Fundamentals of Engineering (FE) exam immediately. Engineers who pass this exam are called engineers in training (EITs) or engineer interns (EIs). After gaining four years of work experience, EITs and EIs can go on to take the Principles and Practice of Engineering exam to qualify for licensure.
Several states require engineers to participate in professional development activities in order to keep their licenses. Most states recognize licensure from other states, as long as that state's requirements meet or exceed their own licensure requirements.
<!- mfunc search_btn -> <!- /mfunc search_btn ->
More complex jobs may require a master's or doctoral degree. Engineers are expected to participate in professional development to keep up with technological developments. They should also be familiar with AutoCAD, a computer-aided design program widely used in engineering. Within solar engineering, AutoCAD is used for photovoltaic system layout. Some firms may also use Google SketchUp.
Because solar engineers must consult with clients, create technical reports, and write emails, they should also have good communication skills.

Solar Engineering Related Degrees
<!- mfunc search_box_body ->
<!- /mfunc search_box_body ->
What Kind of Societies and Professional Organizations Do Solar Engineers Have?
The American Solar Energy Society (ASES) (http://www.ases.org/) is the foremost association of solar professionals and advocates. The society aims to speed the transition to a sustainable energy economy. ASES publishes Solar Today magazine, holds a national conference, and offers other networking opportunities through regional chapters, student chapters, and technical divisions.
The North American Board of Certified Energy Practitioners (http://www.nabcep.org/) is primarily a professional certification organization. It also runs company accreditation programs and offers continuing education.
*2020 US Bureau of Labor Statistics salary figures and job growth projections for electrical and electronics engineers and solar photovoltaic installers reflect national data not school-specific information. Conditions in your area may vary. Data accessed September 2021.