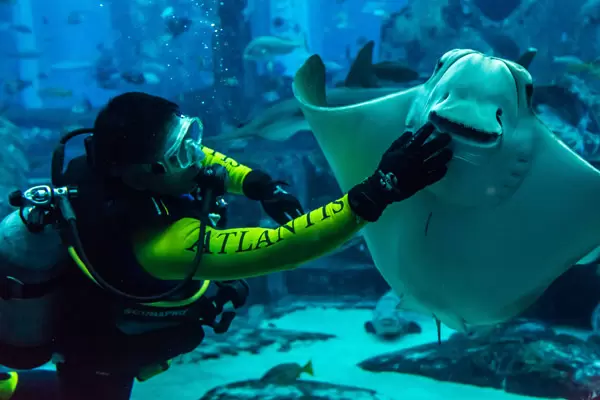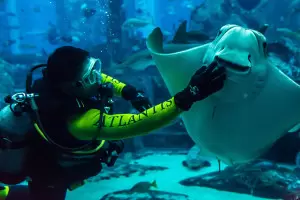 An Aquarist is an individual that cares for the marine life in aquariums by maintaining their living environments and having hands on interactions with the creatures.
What Does an Aquarist Do?
Aquarists may perform several different functions depending on their exact position. Many are directly involved with caring for marine life and properly maintaining the quality of their habitats. They may care for the creatures by feeding them, providing activities for more intelligent creatures, or capturing sick animals so they can be seen by a vet. They may upkeep the aquarium exhibits by monitoring the cleanliness and temperature of the tanks, cleaning the environments, or fixing damaged equipment. In addition, they may provide presentations to visitors or design exhibits for the aquarium.
Where Does an Aquarist Work?
Most Aquarists work in aquariums, private facilities where fish and other marine life are kept in captivity to educate the public. Though this profession spends a great deal of time working hands on with marine life, they may also find themselves working in office environments when designing exhibits or giving presentations to visitors. Aquarists may also be required to perform fieldwork outdoors, meaning that they must travel to other locations to collect specimens that could be used in the aquarium. This career path often requires a great deal of physical activity and time spent in the water.
Most work part-time schedules and irregular hours are common, as many animals demand 24-hour care. Fieldwork may also require extensive travel and overtime hours.
<!- mfunc search_btn -> <!- /mfunc search_btn ->
What Is the Average Aquarist Salary?
Aquarists, who fall under the broader BLS category of veterinarians, earned a median salary of $99,250 as of May 2020. The bottom 10% in this field earn about $60,690, while the top 10% earn more than $164,490.* Most aquarists employed at private aquariums, though others may work for non-profits or state facilities.
What Is the Job Demand for Aquarists?
The job demand for Aquarists is expected to grow 17% between 2020 and 2030, which is faster than average among all professions.* High job turnover is expected in positions that require more menials tasks, while more advanced positions may see an increase due to rising interest in the environment and ocean conservation.
What Are the Education Requirements to Become an Aquarist?
Most Aquarists have a bachelor's degree in marine biology, zoology, or other related field at minimum. Students looking to have an edge in the job market should pursue internships at local aquariums. Because the majority of the workday involves being around and in water, everyone pursuing this field must hold a scuba diving certification, as well as certifications in CPR. Advancement in the field typically depends on work experience.

Aquarist - Related Degrees
<!- mfunc search_box_body ->
<!- /mfunc search_box_body ->
What Kind of Societies and Professional Organizations Do Aquarist Have?
Aquarists and those who wish to enter the field can also browse through these organizations and societies for valuable resources:
Association of Zoos & Aquariums (AZA) - This non-profit organization is dedicated to providing many resources for aquariums, particularly when it comes to conservation, scientific study, and education. They have various resources to keep Aquarists updated on the latest news in conservation and public education techniques. These resources can be especially useful for those working in an educational capacity. It can also be helpful for finding open Aquarist positions.
Most other Aquarist societies are location-specific. It is likely that you will easily find one by searching in your local state or region.
*2020 US Bureau of Labor Statistics salary figures and job growth projections for veterinarians reflect national data not school-specific information. Conditions in your area may vary. Data accessed September 2021.
<!- mfunc search_btn -> <!- /mfunc search_btn ->