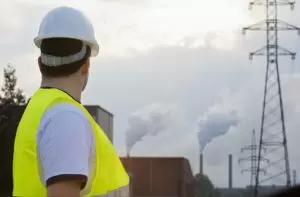 They are responsible for working to improve systems and devices that contribute to environmental health.
What Does an Environmental Health and Safety Technician Do?
The environmental health & safety technician is on the front line of implementing policy and equipment that contribute towards general environmental quality. While not responsible for deciding on organizational policy, they will act under the instructions of those who do make decisions such as environmental health & safety managers. Together, they will report back to line managers on such issues as compliance, devices to install, methods and implementation. They may act as a go-between for front-line employees and the decision makers in an advisory capacity or consulting.
They will need to understand and keep up with modern developments in environmental health & safety engineering. Although they do not design the technology, one of their roles may be to implement, install, repair and replace technology - being qualified and experienced enough to do so. They will be licensed where necessary to implement such changes and repairs. With environmental health & safety training being so important today in all organizations in all sectors, they may either double up as or work alongside trainers to ensure that employees understand their obligations.
They will have extensive knowledge of health & safety policy and law as it pertains to the environment in which they work and will develop procedures for the implementation.
Where Does an Environmental Health and Safety Technician Work?
Environmental health & safety is required in all sectors and in all businesses. Protection of the environment, the ecology and individual animal and plant species is just as important as human health.
According to 2015 BLS data, the employer of the largest number of this type of employee is government with 18% of the workforce. This includes Federal, state and local. These employees will work at government businesses ensuring compliance or may work as government consultants for organizations to ensure compliance.
16% work in manufacturing. EPA and other government regulations now ensure strict compliance with regard to practice within manufacturing - the proper use and disposal of industrial chemicals and substances, and mitigation of accidents. They will work for the organizing companies, mostly on site.
10% work in management, scientific and technical consulting. They will work with government, businesses of all sizes and third sector and hired on a contractual basis to analyze business practice, usually producing a report for decision makers within that organization.
7% work in hospitals. Medical facilities use implements and substances potentially toxic to the environment or if handled by the wrong people. There are regulations and law on disposal; technicians ensure compliance.
6% worked in mining. Industrial chemicals and waste materials need proper handling, storage and disposal for environmental protection and human health.
What Is the Average Environmental Health and Safety Technician Salary?
The median salary for this type of role according to a BLS study released in May 2015 was $48,070. With experience, the highest 10% of earners most in demand can earn in excess of $77,780. The lowest earners recorded a salary average of $30,610. Looking specifically at environmental employees, the average starting salary depending on location is presently $40,000-$50,000. A typical starting hourly pay rate is $19-$24. The government pays the highest average salary at $48,740. Mining activities were second at $47,540. Under the median were manufacturing ($46,040), scientific and tech consulting ($44,930) and hospitals fifth with $42,010.
Environmental Healthy and Safety Technician Jobs & Job Description
Recent Environmental Health and Safety Tech Job Listings
Use the search box below to find all the environmental health and safety technician job listings in our job board.
What Is the Job Demand for Environmental Health and Safety Technicians?
Demand for this type of role is expected to grow some 9% in the decade between 2014 and 2024. This is slightly higher than the mean average of all jobs in the US at present. As Federal and international compliance on health and environmental protection pushes forward, more people will be required to fill these roles. Part of the "green economy", the sector overall has seen an improvement in the last few years.
What Are the Education Requirements to Become an Environmental Health and Safety Technician?
High school students will require good grades in scientific subjects such as math, geography, chemistry and biology. Students should also ensure they have good communication skills as the role does require liaising with multiple stakeholders - employees down the chain of command and decision makers and management above. Written, oral and electronic communication skills are essential. Equally important is interpersonal communication and a professional presentation to the right people.
Although most occupations health & safety roles do not require degree education, environmental health & safety is a specialist area that will require an associate degree at the very minimum. Although the role is practical rather than academic, this is especially so for environmental professionals. You will need to understand the balance between practical solutions to pollution and health, and understand ecology. Useful degrees include environmental health, ecology, environmental law or policy, or environmental studies.
Postgraduate degrees such as masters and doctorates will not be required unless the student intends to enter into a teaching or research career. The practical nature means the student may need to keep up with developments in technology and latest research but not from an academic point of view.
Environmental Health and Safety Technician - Related Degrees
What Kind Of Societies and Professional Organizations Do Environmental Health and Safety Technicians Have?
Environmental health & safety is an enormous area with the following professional organizations and groups.
NSF International: One of the largest global bodies for developing certification programs and public health standards. They also test and certify devices and systems for use in public health and safety
International Society of Exposure Analysis: This worldwide organization examines the science and presents recommendations on the link between the environment and human health
Chartered Institute of Environmental Health: Though based in the UK, they provide advice to governments all over the world regarding health and safety policy and law