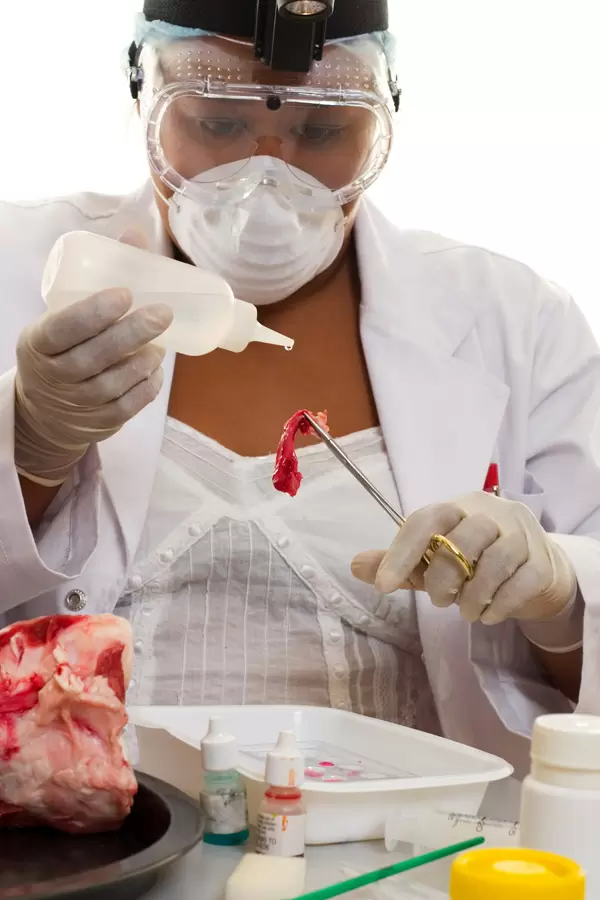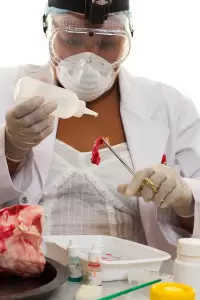 An Agricultural Food Scientist is a specific kind of scientist that specializes in analyzing farming methods and food production procedures to increase yield, safety, and other factors.
What Does an Agricultural Food Scientist Do?
Agricultural and Food Scientists conduct experiments and analyze data about crops and food production methods. These scientists may also use their findings to create new and innovative ways to increase agricultural output or improve the quality of our food supply. Sometimes this work involves traveling to farms and other specific sites to obtain samples. They must then communicate their findings and prospective solutions to other members of the scientific community and sometimes policy-makers as well. More experienced Agricultural and Food Scientists may lead and coordinate an entire team of researchers.
Where Does an Agricultural Food Scientist Work?
Agricultural and Food Scientists spend the majority of their days in laboratories and offices. Their time is spend analyzing data and creating detailed reports using advanced computer software. At times, these scientists may be required to perform fieldwork that requires them to travel to a farm or food processing plant. These trips may involve carefully following safety procedures, working in adverse weather conditions, or dealing with loud noises from heavy machinery.
Most work full-time on regular schedules, though travel to certain sites of interest may be required during normal hours.
<!- mfunc search_btn -> <!- /mfunc search_btn ->
What Is the Average Agricultural Food Scientist Salary?
Agricultural and Food Scientists earned a median salary of $68,830 as of May 2020, with the highest 10% earning around $125,280 and the lowest 10% earning around $40,520.*
Most of these scientists work for food manufacturing companies, while others work for management companies and private research facilities.
Agricultural Food Science Jobs
Recent Agricultural Food Science Job Listings
Use the search box below to find all the agricultural food scientist job listings in our job board.
Food Science is a multi-disciplinary field that involves scientists with such diverse backgrounds as chemistry, biochemistry, nutrition, microbiology and engineering. In teams, they apply research to solve real problems associated with food product development throughout the world. While food scientist jobs do vary significantly, most agricultural food scientists would be comfortable performing the following as part of their scope of work:
Optimize field practices
Be familiar with practices such as crop modeling, soil mapping and weather modeling
Be willing to approach agriculture holistically
Be familiar with solutions like biotechnology, to advanced predictive and prescriptive analytics
Design and implement field experiments
Collect soil chemical and physical properties,
Work collaboratively with other engineers and technicians on providing food science recommendations
Collaborate with in-house personnel on many projects
Work independently for methodological portions of the role
Have a broad scope of knowledge that includes crop and soil science, meteorology, crop physiology, and related fields like predictive modeling
Be able to perform GxE analyses, and other environmental modeling
Be able to map soil, engage in yield modeling, and plant breeding
Have experience in computational statistics, data mining, model building
Conduct research and experiments to improve the quantity and quality of field crops and farm animals
Innovate new food products
Develop new and better ways to process, package, and deliver food products
Analyze soil composition as it relates to plant growth
Communicate findings to colleagues, farmers, and the public
Explore animal genetics, nutrition, reproduction, diseases, growth, and development
Advise farmers on how to lower animal death rates, handle waste matter, and increase production
Senior agricultural food scientist jobs often have an even broader scope of responsibilities that grow as their experience grows. This scope may include management of a region as well as operations and personnel. Such responsibilities may include:
Enforce government regulations through inspections
Write grant and business proposals for funding purposes
Oversee the preservation of site integrity - especially critical in the field
Engage in technical report preparation and submittal
Foster a positive and safe work environment with mentorship opportunities
Consult regarding project scope, schedules, and budgets
Navigate regional, federal and international regulations, and best practices
Oversee testing and calibrating of designs, equipment and instruments
Oversee measurement taking and data recording
Liaise with site and farm stakeholders
Consult with farmers, engineers, fellow scientists, and government agencies regarding best practices
Supervise fieldwork and lab work
Communicate with stakeholders and administration through field status reports and presentation of team findings
What Is the Job Demand for Agricultural Food Scientists?
The job demand for Agricultural and Food Scientists is expected to increase by 9% in the next 10 years (2020-2030), which is about average compared to other professions.* An increasing population, higher demand for large food outputs, and an interest in food safety will stimulate growth in the industry. Most of the growth will likely occur in the private sector.
<!- mfunc search_btn ->
<!- /mfunc search_btn ->
What are the Educational Requirements to Become an Agricultural Food Scientist?
Agricultural Food Scientists need at bachelor's degree from a land-grant college at minimum to obtain entry level positions, though many go on to obtain their master's or doctorate degrees. Typically the bachelor's degree must be in agricultural science, biology, chemistry, or other related field. Participating in lab work during your undergraduate years is vital to gaining experience before entering the workforce.
Agricultural and Food Scientists that go on to earn higher degrees have a more advanced knowledge of their field. Those with Ph.D.'s sometimes go on to pursue research.

Other Degrees Related to Food Science
<!- /mfunc search_box_body ->
What Kind of Societies and Professional Organizations Do Agricultural Food Scientists Have?
Agricultural and Food Scientists and those who wish to enter the field can browse through these organizations and websites for valuable resources:
United States Department of Agriculture (USDA) - This bureau of the Federal Government's Department of the Interior highlights the current problems in food and agriculture production. They provide an abundant amount of up-to-date information on current safety standards and regulations in the industry.
Institute of Food Technologists (IFT) is a network of food technologists that intend to advance the field and provide a higher quantity of healthier food around the globe. They advocate for the food scientists through activism and funding for food-related research endeavors. In addition, they provide numerous resources for the field, including publications, meetings, and a career center.
Crop Science Society of America (CSSA) is an international professional society that advocates the agricultural sciences and promotes the importance of the field to the public. In addition, the group offers industry-specific publications, meetings, awards, and help launching your career in the agricultural sciences. The CSSA can be an invaluable resource for current Agricultural and Food Scientists, as well as recent graduates and current students.
*2020 US Bureau of Labor Statistics salary figures and job growth projections for agricultural and food scientists reflect national data not school-specific information. Conditions in your area may vary. Data accessed September 2021.