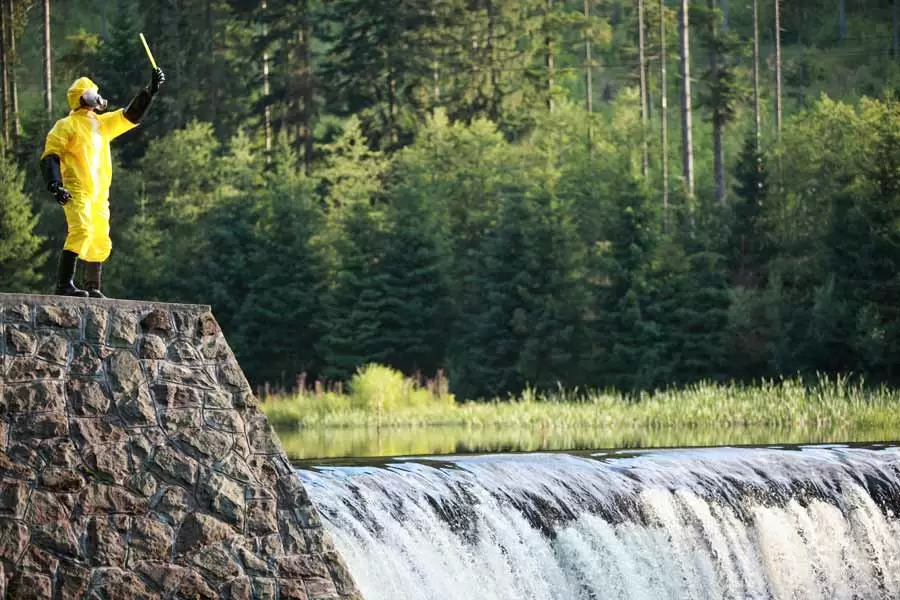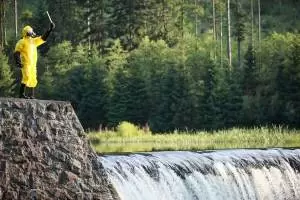 Environmental toxicologists study the effects of toxic chemicals on organisms in their natural environments, as well as the ecosystems they belong to. For example, they may conduct laboratory experiments to determine the effects of a toxin at various concentrations. Since some pollutants bioaccumulate, or build up over time in the flesh of larger predators that eat smaller, contaminated prey, environmental toxicologists may study the effects of bioaccumulation on wild food webs, as well as our own food supply.
What Does an Environmental Toxicologist Do?
Environmental toxicologists are usually involved in studying how toxic chemicals are metabolized by organisms, how they move through food webs and ecosystems, and the lethal and non-lethal effects they have on species. This work is often done with advanced computer models, laboratory experiments, and fieldwork. Experiments are often carried out on laboratory animals and human cells to determine toxic effects. Fieldwork may involve monitoring and reporting on changes in populations at all levels of an ecosystem that have been exposed to contaminants.
Some environmental toxicologists conduct ecotoxicity testing and risk assessment on new chemicals before they're released to the market, to ensure they won't cause cancer, birth defects, neurological problems or other adverse effects. They may either do this testing for federal regulatory agencies like the U.S. Environmental Protection Agency or Food and Drug Administration, or for private companies.
Environmental toxicologists may also help local, state and federal regulatory agencies develop and enforce laws governing the production, use and disposal of chemicals. They may either be employed directly by the government, or by private consulting firms. These firms also help communicate information about chemical risks and regulations to the public.
Where Does an Environmental Toxicologist Work?
Many environmental toxicologists are employed by private companies, where they help with product development, product safety testing, and navigating the regulatory landscape. They may either work for product developers, or for research organizations that contract their services and toxicological expertise.
Environmental toxicologists are also employed by federal and state regulatory agencies, where they test new chemicals for safety or help develop regulatory policies. More than half of toxicologists working for the government have doctoral degrees.
Toxicologists are increasingly employed by consulting firms that advise local public officials, industries and lawyers on issues related to toxic chemicals. Doctoral degrees are typically not required for these positions. Those with bachelor's and master's degrees may find jobs at consulting firms.
Many environmental toxicologists are employed as faculty or staff researchers at colleges and universities. Doctoral degrees are usually required for such positions. Some nonprofit organizations also hire toxicologists to conduct research on chemicals or issues of public concern.
While most government and industry positions are located in the eastern U.S., jobs are generally available nationwide.
Some environmental toxicologists conduct outdoor fieldwork to monitor the effects of chemicals on ecosystems. This may involve conducting surveys on foot or by boat. Toxicologists may need to wear protective gear when working with certain chemicals, species, or contaminated substances.
<!- mfunc search_btn -> <!- /mfunc search_btn ->
What Is the Average an Environmental Toxicologist Salary?
According to the BLS, environmental toxicologists, who fall under the broader BLS category of environmental scientists and specialists, earned a median salary of $73,230 as of May 2020. The highest paying industry for these professionals remains the federal government, which reported a median salary of $103,180 during this time.*
Environmental Toxicology Jobs & Job Description
Recent Environmental Toxicology Job Listings
Use the search box below to find all the environmental toxicologist job listings in our job board.
Environmental toxicologists work mainly in applied fields analyzing the harmful effects of newly created chemical compounds, and existing combinations of chemicals that have influenced the environment on a local, national, or global scale. While scientists seeking environmental toxicologist jobs may pursue teaching or some interdisciplinary research, the greater job demand is for these individuals to work in industrial settings or for regulatory agencies. While tasks do vary significantly from job to job, the scope of an environmental toxicologist job is found below:
Develop research methods and systems that are best fit for the chemicals and environment that are being researched
Use observations, samples, and specimens to collect data
Review current scientific literature on an ongoing basis
Manage observations, samples and specimens in the lab and via fieldwork
Forecast and analyze toxicology impact using GIS and modelling technology
Use literature, data, laboratory samples, and other sources of information to uncover primary, secondary, and tertiary chemical impacts
Present research findings to internal and external stakeholders
Communicate with project leader and administrators through reports and presentation of research findings
Consult with policymakers on the impact and safety of chemicals in the environment
A lead environmental toxicologist or chief researcher may have the following or similar additional responsibilities, depending on the goals of the project. These additional tasks tend to be focused on project and budgetary management:
Create project timelines and budgetary metrics
Foster quality, integrity, organization, and appropriate tracking of field and lab data
Oversee the integrity of a project site to control for chemical impact data
Manage tasks like report and presentation preparation and submittal, as well as communicating with site stakeholders
Supervise fieldwork and administrative support (survey, site recording, testing, monitoring, and data integrity) of one or more field crews
Communicate with funding agencies for grant applications
What Is the Job Demand for an Environmental Toxicologist?
Environmental toxicologists should have excellent job prospects over the coming years. BLS predicts the job demand for environmental scientists and specialists to increase by 8 percent between 2020 and 2030.* Specialists in environmental toxicology will have advantages over biologists and other scientists without specialized training in toxicology.
What Are Environmental Toxicologist Education Requirements?
Most environmental toxicologists have advanced degrees in this specialization. Most professionals enter graduate school with bachelor's degrees in biology, chemistry, environmental chemistry, or ecology. Graduate programs build on those basics, providing additional education in molecular and developmental biology, neuroscience and risk assessment. They also teach students how environmental contaminants relate to other life and earth sciences such as microbiology, botany, entomology, soil science, hydrology, and atmospheric science.
Learn more about environmental toxicology degrees.
<!- mfunc search_btn -> <!- /mfunc search_btn ->
What kind of societies and professional organizations do Environmental Toxicologists have?
The Society of Toxicology (SOT) http://toxicology.org/ advances the profession of toxicology, career opportunities for toxicologists, and the protection of public health. It offers networking and involvement through special interest groups and regional chapters. These sub-groups offer developmental webinars on a variety of professional topics.
The Society of Environmental Toxicology and Chemistry (SETAC) (http://www.setac.org/) is a global professional organization that actively balances its governance and activities among its academic, business, and government members. It focuses on developing and promoting multidisciplinary approaches to solving environmental problems, and provides a forum for sharing ideas. It holds annual meetings, offers short courses, supports regional branches and chapters, offers a job board, and maintains a directory of graduate programs.
*2020 US Bureau of Labor Statistics salary figures and job growth projections for environmental scientists and specialists reflect national data not school-specific information. Conditions in your area may vary. Data accessed September 2021.