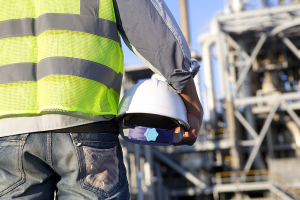 Fortunately, we have environmental laws and regulations on the books to reduce the environmental impacts of the things we build. But those laws wouldn't mean much without people who know what they are and how to make sure that new projects conform to them. That's where environmental planners come in. Environmental planning is a multidisciplinary field offering rewarding careers where you can easily see the very "concrete" results of your work, and know exactly how you've contributed to the betterment of a project and the lessening of its impacts on the planet.
What is Environmental Planning?
Environmental planning is urban and regional planning with a focus on sustainability. It aims to analyze and minimize the environmental impacts of proposed construction projects and make sure they meet all environmental regulations. It essentially deals with "shaping" or improving construction projects to make them easier on the earth.
An environmental planner largely deals with making sure that development projects comply with environmental laws and regulations. They help reduce impacts, facilitate environmental permitting, and write environmental reports and documents.
What does an Environmental Planner do?
An environmental planner tries to minimize the environmental impacts of housing, industrial, and transportation-related construction projects. They also help project managers navigate the environmental permitting process. They review site plans and visit project sites to investigate potential environmental effects and identify needed changes. They coordinate with regulatory agencies to manage permitting issues, and ensure compliance with the National Environmental Policy Act (NEPA) and all federal, state, and local environmental regulations. Planners working for government agencies may recommend whether permits should be approved or denied. Environmental planners prepare environmental impact statements, environmental assessments, categorical exclusions, and responses to requests for proposals. They need to keep up with changes to zoning and building codes, environmental regulations, and other legal issues.
They may participate in public involvement meetings, or give presentations to government officials. Some may be involved in client outreach and business development through proposals, interviews, and presentations.
Where does an Environmental Planner work?
The vast majority of environmental planners work for federal, state, county, and city government agencies. The U.S. Bureau of Labor Statistics (BLS) groups environmental planners with urban and regional planners. It reported that, as of 2012, most of them (65%) worked in local government. Another 14% provided architectural, engineering, and related services. 10% were employed in state government, and another 7% worked at management, scientific, and technical consulting firms. Many environmental planners work for environmental consulting companies or government contractors.
Environmental planners usually work full time in offices during typical business hours. Frequent travel to work sites and meetings with clients and regulatory agencies may be required.
What is the average Environmental Planner salary?
BLS reports an annual wage for urban and regional planners of $65,230 as of May 2012. Those providing architectural, engineering, and related services earned the highest salaries ($71,010). Those working for management, scientific, and technical consulting firms made $67,390. Planners employed by state government earned $64,380, and those working for local government made an average of $63,300.

Environmental Scientist Salary Table
| Location | Total Employment | Annual Salary |
| --- | --- | --- |
| United States | 34,510 | $41,700 |
| Alabama | 660 | $39,800 |
| Alaska | 220 | $39,610 |
| Arizona | 700 | $44,590 |
| Arkansas | 190 | $36,680 |
| California | 3,690 | $46,110 |
| Colorado | 1,050 | $45,190 |
| Connecticut | 350 | $46,070 |
| Delaware | 190 | $34,750 |
| District of Columbia | 330 | $27,000 |
| Florida | 1,780 | $34,520 |
| Georgia | 540 | $41,050 |
| Hawaii | 220 | $40,410 |
| Idaho | 190 | $49,180 |
| Illinois | 1,170 | $42,730 |
| Indiana | 570 | $36,980 |
| Iowa | 320 | $38,820 |
| Kansas | 190 | $44,450 |
| Kentucky | 450 | $42,610 |
| Louisiana | 390 | $35,970 |
| Maine | 160 | $36,470 |
| Maryland | 530 | $51,580 |
| Massachusetts | 1,110 | $36,380 |
| Michigan | 920 | $42,260 |
| Minnesota | 440 | $42,880 |
| Mississippi | 160 | $37,870 |
| Missouri | 300 | $42,410 |
| Montana | 130 | $39,870 |
| Nebraska | 170 | $50,140 |
| Nevada | 390 | $62,630 |
| New Hampshire | 240 | $37,590 |
| New Jersey | 1,050 | $39,580 |
| New Mexico | 230 | $45,640 |
| New York | 2,470 | $43,810 |
| North Carolina | 1,170 | $38,000 |
| North Dakota | 180 | $37,320 |
| Ohio | 1,140 | $40,120 |
| Oklahoma | 480 | $34,600 |
| Oregon | 310 | $51,080 |
| Pennsylvania | 1,620 | $39,540 |
| Rhode Island | 40 | $56,620 |
| South Carolina | 790 | $63,650 |
| South Dakota | 100 | $26,900 |
| Tennessee | 910 | $45,990 |
| Texas | 2,820 | $39,540 |
| Utah | 420 | $46,050 |
| Vermont | 70 | $43,710 |
| Virginia | 610 | $43,230 |
| Washington | 1,160 | $53,420 |
| West Virginia | 380 | $36,210 |
| Wisconsin | 670 | $39,960 |
| Wyoming | 140 | $39,210 |
| Puerto Rico | 120 | $25,790 |
Table data taken from nation BLS (http://www.bls.gov/oes/current/oes194091.htm)
Environmental Planner Jobs & Job Description
Recent Environmental Planning Job Listings
Use the search box below to find all the environmental planner job listings in our job board.
Focusing on the sustainability of an urban plan, environmental planners attempt to mitigate the environmental impact of architecture, logistics, systems, and other aspects of a development project. While duties vary significantly from job to job, the following list includes typical responsibilities that an environmental planner may encounter:
Draft designs, schematics and maps of varying types by hand and through computer programs
Liaise with additional planning teams, industrial representatives, lobbyists, developers, public and private stakeholders, and members of the public
Create requests for proposals for development and tender
Evaluate submitted proposals
Submit requests to amend bylaws and for exemption or clarification on regulations and policies that would impact a project
Strategize, develop, and manage planning and logistics from phase to phase
Develop and implement phases of the planning process through the various levels of work
Ensure compliance with regulatory, policy, and legal entities
Assertively communicate project ideas and solutions to internal and external stakeholders
Review maps, aerial photos, data, and field investigation reports and interpret data for planning usage
Facilitate public inquiries on land or resource development as a stakeholder or as a decision maker
Process paperwork and permits regarding zoning and other regulatory processes
Prepare reports regarding land usage, environmental impact and human impact
Communicate on the phone, in meetings, and in presentations with clients and stakeholders
Participate in committee work for land and resource development, management, and stewardship
Conduct site inspections in the field for future development
Monitor construction progress, both 'big picture' and detail work
Manage environmental remediation projects and tasks
Present information to internal and external stakeholders, who might include the general public, interested parties, government officials, and contractors
Consult with and answer to client requests
Senior environmental planners often have a breadth of experience that makes them well-suited to managerial or administrative task management in addition to their regular skillset. With this in mind, the senior environmental planner role may look like:
Facilitate positive and safe workgroup interactions
Develop project scopes, schedules, benchmarks and budgets
Navigate regulatory protocols and best professional practices on behalf of the project and team
Manage equipment testing and calibrate equipment and instruments
Oversee records management, retention, destruction
Create business proposals for funding purposes
Engage in quality assurance
Organize and track appropriate field data
Engage in tasks like report preparation and submittal and peer review
Supervise fieldwork (survey, site recording, testing, monitoring, and data integrity) of multiple field crews
Identify as point of first contact for communication with internal and external stakeholders
Sign off on field status reports and presentation of team findings
Research and implement new technology
Remain up to date with new advancements in the field of environmental planning
Participate on committees for policy and regulatory development within the industry
Participate on committees for research and educational program development within the industry
What is the job demand for Environmental Planners?
Employment of urban and regional planners is projected to grow 10 percent from 2012 to 2022, about as fast as the average for all occupations. Population increases and emphasis on environmental issues will drive employment growth for environmental planners.
How do I get an Environmental Planner degree?
Environmental planners need at least a B.S. or B.A. in environmental science, planning, geography, historic preservation, archeology, regional planning, civil or environmental engineering, or a related field. They typically take courses in environmental law, planning theory and methods, statistics, mathematics, geology, engineering, environmental impact analysis, economic analysis, and technical/engineering project management. Knowledge of geographic information systems (GIS) mapping software and excellent writing skills are also essential.
Experience is also very important; even some entry-level positions require it. College internships are a great way to gain experience.
A master's degree in planning, environmental planning and management, or a related area may be preferred by some employers, or required for some positions. They typically accept students from a variety of backgrounds such as geography, engineering, architecture, and environmental science. Some schools also offer graduate certificates in environmental planning.
Environmental Planning Certification
Some employers require or prefer AICP CEP certification, which involves passing an exam. Prerequisites for taking the exam include membership in AICP and a total of eight years of experience in environmental planning. Candidates must write an essay about each position held over the 8 years in question. An exam fee is required, and certification needs to be renewed every two years.
Other employers may prefer a Professional Engineering (PE) licensure. Engineers who offer their services directly to the public must be licensed as PEs. Licensure generally requires:
A degree from an ABET-accredited engineering program
A passing score on the Fundamentals of Engineering (FE) exam
Relevant work experience, typically at least 4 years
A passing score on the Professional Engineering (PE) exam
College graduates may take the Fundamentals of Engineering (FE) exam immediately. Engineers who pass this exam are called engineers in training (EITs) or engineer interns (EIs). After gaining four years of work experience, EITs and EIs can go on to take the Principles and Practice of Engineering exam to qualify for licensure.
Several states require engineers to participate in professional development activities in order to keep their licenses. Most states recognize licensure from other states, as long as that state's requirements meet or exceed their own licensure requirements.
After licensing, environmental engineers can earn board certification from the American Academy of Environmental Engineers and Scientists. This certification demonstrates expertise in an area of specialization.
Some positions may accept Registered Landscape Architect (RLA) or Reverse Logistics (RL) certifications.
In addition to professional certifications, a few states require planners to be licensed through the state as well.

Degrees Related to Environmental Planning
What kind of societies and professional organizations do Environmental Policy Analysts have?
The American Planning Association (APA) is the foremost professional association for planners in the U.S. Its Green Team shares and promotes innovative methods that improve sustainability. It facilitates networking through conferences, events, local chapters, and special interest divisions, including an Environment, Natural Resources and Energy Division. It also has a training service and publishes planning-related publications such as Planning magazine and the Journal of the American Planning Association.
The American Institute of Certified Planners (AICP) is the American Planning Association's professional institute. It administers Certified Environmental Planner (AICP CEP) certification and provides leadership through professional ethics, professional development, planning education, and planning standards. It also holds symposiums on a variety of topics.
Other Recommend Resources